<!###CONTENT:BEGIN###>
Best's State Rate Filings
Online Access to Rate Filings (P/C, US)
To order by phone:
(908) 439-2200, ext. 5311
For a demonstration or evaluation: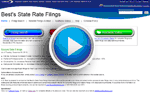 Watch a video about Best's State Rate Filings.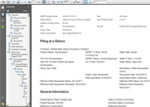 View complete filings.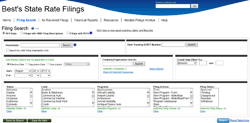 Search for complete filings and filing summaries.
Compare companies and monitor property/casualty filings with ease: Best's State Rate Filings gives you access to policy rate, rule and form changes, loss cost information and new programs for thousands of insurers -- with complete filings included at no additional charge for all states, dating back to 2008.
Review complete filings at no extra cost: We offer complete filings in all states and the District of Columbia, most dating back to 2008.
Get access to approved filings and filings classified under all status options, including pending, disapproved, withdrawn and rejected, where available.
Take advantage of our descriptive filing summaries: Our team of professionals has sorted through the paperwork attached to each filing, isolating the key pieces of information you want -- and need -- to know for more than one million filings dating back to 2003. SERFFSM Filing Descriptions are also available for all filings.

View exclusive market share and rank information based on lines of business -- available only from AM Best.

Review financial reports to identify top US P/C insurers by state and line and to bring yearly trends into focus, using selected state/line, Schedule P and insurance expense exhibit data from AM Best.

Find out what your competitors are doing before you implement policy changes. Best's State Rate Filings covers nearly all of the property/casualty premiums written each year.
Easily search across states.
Visit the Best's State Rate Filings home page for the latest filings: As Received Filings enables subscribers to access complete filings as soon as we obtain them from the various state insurance departments. Once our editors have reviewed the filings and they are no longer classified as "As Received," the filings can be accessed using the Filings Search option. More than 20,000 new commercial and personal lines filings are added each month.
Streamline your searches using multiple criteria:

Specific commercial/personal line or program
Filing or SERFF number, effective or disposition date, overall effect percentage, loss cost multiplier
Company, group or agency/organization names, NAIC, FEIN and AMB company numbers
Text within the summary
Specified keywords within the complete filings archive

Export results to Microsoft Excel or PDF formats.

Create quick or advanced personalized searches by state for any number of criteria.

Create or save customized alerts for e-mail notification of filing changes based on selected states, major lines, filing actions, companies, programs, overall rate effect and keywords.
Important Links
Call for pricing.
Phone orders, including multi-user and enterprise-wide access: (908) 439-2200, ext. 5311. If you are interested in purchasing an individual rate filing or for a subscription that includes unlimited access to all filings, contact us at sales@ambest.com or (908) 439-2200, ext. 5311.
SERFF is a registered service mark of the National Association of Insurance Commissioners.
<!###CONTENT:END###>