<!###CONTENT:BEGIN###>
Best's Statement File - Property/Casualty, US
Best's Statement File - Life/Annuity, US
Already a subscriber?
Access your product via BestLink:
(registration required)
To order, please call:
(908) 439-2200, ext. 5311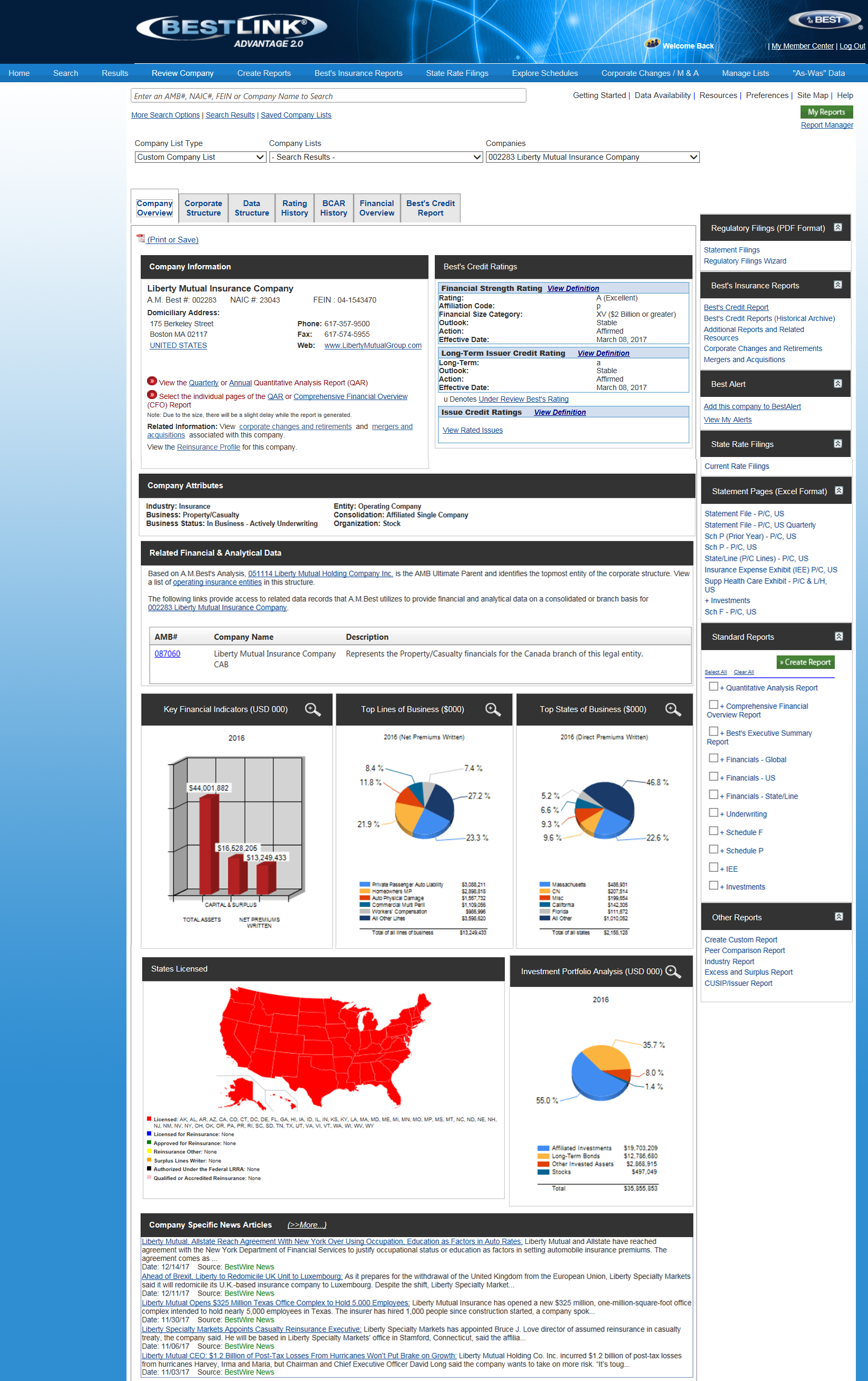 View detailed information on the Review Company page.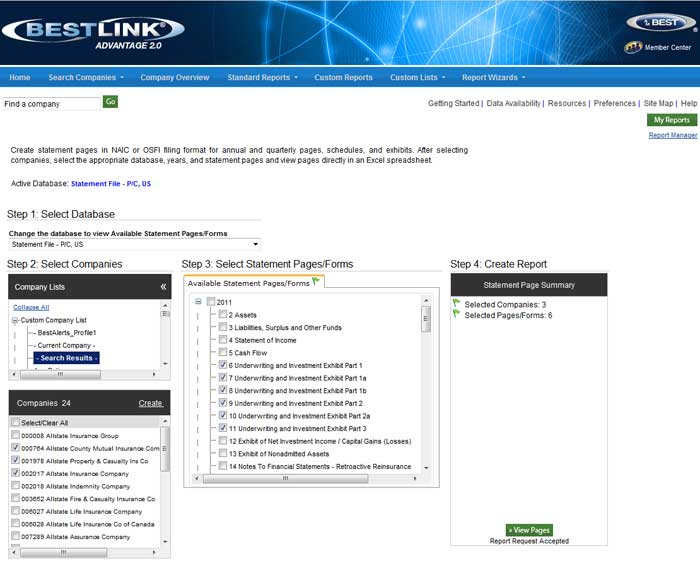 Select and view the statement pages you need.
Take advantage of A.M. Best's unique perspective and experience to get a complete picture of the insurance industry. Best's Statement File lets you research single insurers, groups and industry composites with data from thousands of quarterly and annual statements as filed with the National Association of Insurance Commissioners (NAIC) and A.M. Best.
Use Best's Statement File to:
Perform in-depth financial reviews on a company, peer-group or industry-wide basis.
Determine company or industry trends over an 11-year period.
Use a wide range of fields to identify companies that match criteria you establish.
Customize your research by creating your own peer groups, field lists and reports.
Your purchase includes:*
Depending upon your purchase, standard reports include:
Change in Policyholders' Surplus: This report displays all of the items which account for the change in policyholders' surplus (PHS) for five companies.
Select Financial Ranking Report: A report enables a customer to select any five insurance companies and receive a relative ranking among the five companies.
Profitability & Income Summary: A full complement report of the income statement data elements as presented in Best's Statement File. The report reflects key profitability analysis ratios such as combined ratio, ROR, ROE and others.
Year-Over-Year Financial Summary: An evaluative report of an individual company's balance sheet and income statement from a current-year versus prior-year perspective.
Key Financial Indicators: A report that assesses an individual company's five-year trends, concentrating on key summary data to highlight balance sheet and income statement strengths.
Summary Metrics: A report that focuses on an individual company's five-year trends, concentrating on key summary data to highlight balance sheet and income statement strengths.
Five-Year Statement Page Summary: An Executive Summary-style report that features five years of assets, liabilities, income statement and cash flow.
Exportable Best's Executive Summary Reports that present, in graphical format, results in key areas of insurer operation in both the annual and quarterly databases:

Single Company: A complete financial analysis of one company, available in five- and eleven-year editions.
Comparison: A side-by-side financial analysis of a company with a peer group of up to five other companies, over a five-year period.
Composite: An examination of a company's financials against a peer group composite, displaying both the average and total composite of the peer group.
Important Links:
Phone orders and inquiries: (908) 439-2200 ext. 5311
*The Property/Casualty and Life/Annuity editions are sold separately.
<!###CONTENT:END###>