<!###CONTENT:BEGIN###>
Best's Statement File - Solvency II
For more information, a demonstration or to order:
Europe & MENA:
+44 20 7397 0292
or
europe.sales@ambest.com
U.S. & Asia-Pacific:
+1 (908) 439-2200, ext. 5311
or
sales@ambest.com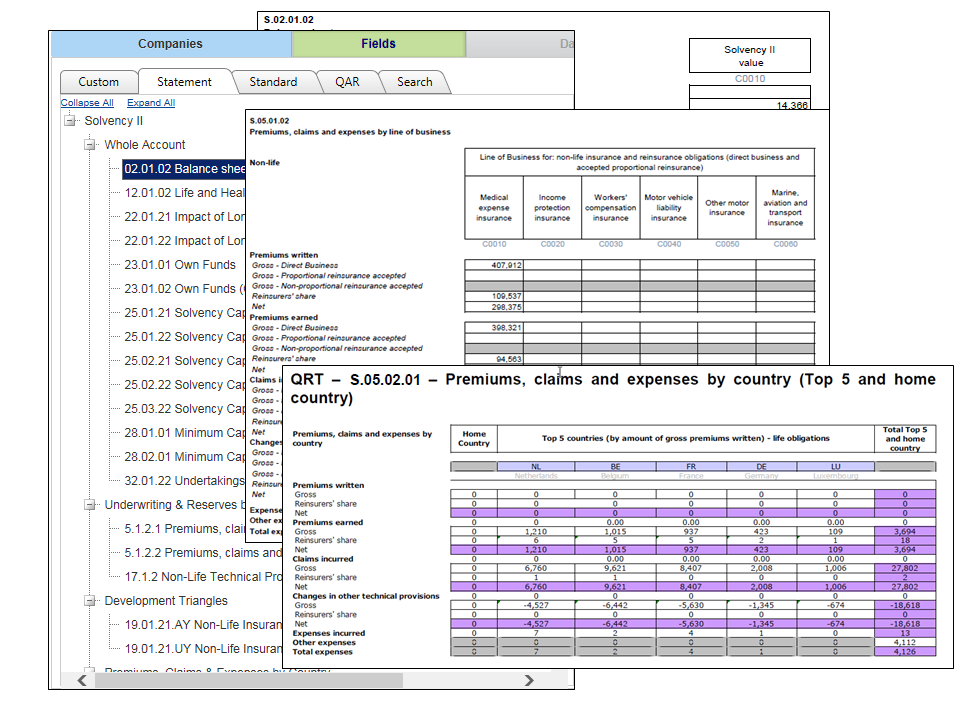 Access the new Solvency and Financial Condition Report (SFCR) Filings (click image to enlarge).
Europe's Solvency II regulations and public Solvency and Financial Condition Report (SFCR) provide, for the first time, a standardized reporting format offering greater insight into the European market and its insurers and reinsurers.

Best's Statement File - Solvency II is the new and essential information resource for European counterparty credit risk analysis, strategic planning, and investment and M&A analysis. It's a perfect partner to Best's Statement File - Global.
Access the Solvency and Financial Condition Report (SFCR) Filings made public under the new European Solvency II regulations for up to 3,500 European insurers and reinsurers.

Export and analyze the data for:

Solvency II capital requirements and ratios

Line of business premiums, claims and expenses

Technical provisions by line of business

Balance sheet

Analyze the premiums, claims and expenses for the top five countries in which each European insurer generates business.

Review the text report accompanying the SFCR filings.

Search for data with the query builder, then generate custom reports including your own data and ratios.

Aggregate selected companies to create a single group company, country total or benchmark record and evaluate mergers.
Identify insurers and analyze groups with immediate and ultimate parent data, based on A.M. Best's analysis of corporate structures and ownership.
Research and analyze companies, competitors, peers and markets with the latest data.
Enjoy product access through BestLink online and BestLink for Excel.
Your purchase includes:
Data:

Access to the first year of data for the new Solvency II SFCR filings
Data for all cells of all forms of the annual Quantitative Reporting Template (QRT)
PDFs of source SFCR filings, including text submission
Detailed line of business data, including technical provisions plus country of business data
Solvency ratios; Solvency and Minimum Capital Requirement data
Total Claims Paid Loss Development Triangulations
Access to ongoing system, reports and interface developments as they are released

Reports:

Customizable report generator to create your own reports, data items and ratios

Pre-formatted reports including Balance Sheet, Investment Allocation, Portfolio Mix, Own Funds, SCR & MCR, Underwriting by Line of Business and Country, and Ratio Reports

Tools:

Company Information:

Corporate structure and data structure

Current and historical Best's Financial Strength Ratings and Best's Issuer Credit Ratings

Mergers and acquisitions database

Access to:
Important Links
Phone orders: In the U.S., Bermuda and the Caribbean, call +1 (908) 439-2200, ext. 5311. In Europe, Canada, Africa, Asia and Australia, call +44 20 7397 0290.
Multi-user inquiries, including organization-wide access: +1 (908) 439-2200 ext. 5311.
<!###CONTENT:END###>