<!###CONTENT:BEGIN###>
Best's Statement File - Global
For more information, a demonstration or to order:
Europe & MENA:
+44 20 7397 0292
or
europe.sales@ambest.com
US & Asia-Pacific:
+1 (908) 439-2200, ext. 5311
or
sales@ambest.com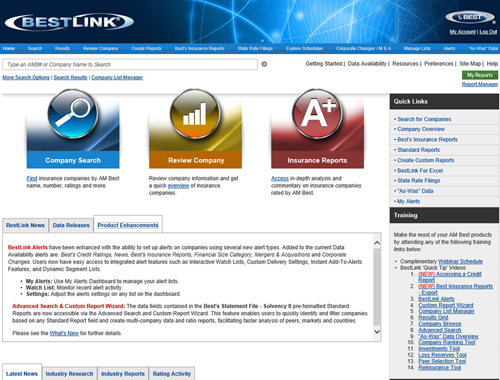 Access BestLink for information on almost 17,500 insurers.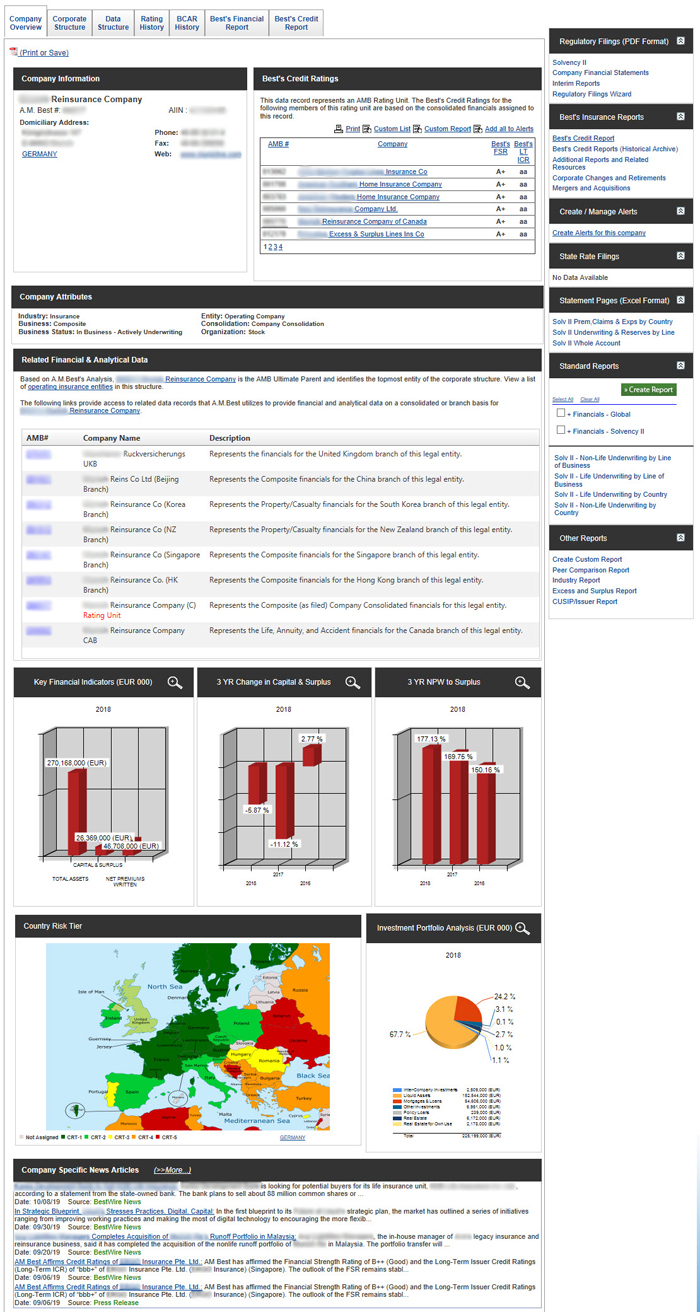 View detailed information about each insurer.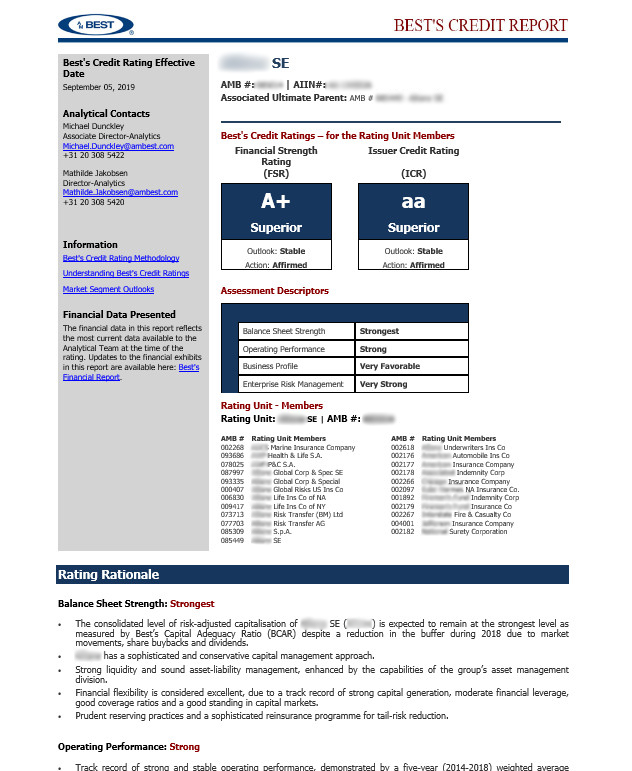 Best's Credit Reports
This worldwide online insurer credit ratings and financial database and analysis system provides timely and accurate data on thousands of insurance companies. It is used extensively for insurer/reinsurer/counterparty credit risk analysis, strategic planning, investment and M&A analysis.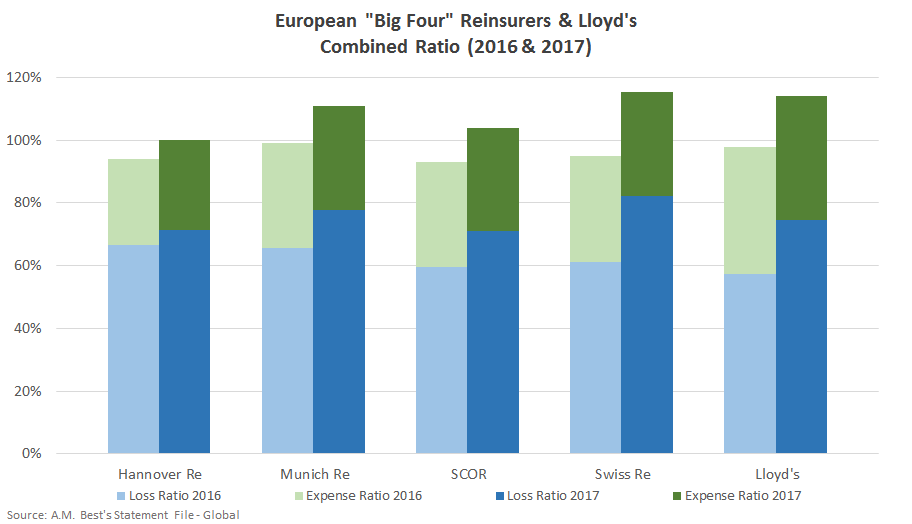 Catastrophes Impact the Combined Ratios of the "Big Four" Reinsurers & Lloyd's
Access up to 11 years of financial data for almost 17,500 insurers worldwide: approximately 5,300 in Europe, 7,400 in North America, 1,850 in the Asia-Pacific region, 425 in the Middle East and North Africa and 2,350 in Latin America, the Caribbean and beyond. For information about region-focused products, view the links below.
Perform cross-border and comparative analysis and view information in the currency of your choice.
Aggregate selected companies to create a single group company, country total or benchmark record and evaluate mergers.
Identify insurers and analyse groups with immediate and ultimate parent data, based on A.M. Best's analysis of corporate structures and ownership.
Download extended company rating histories of up to 25 years.
Research and analyse companies, competitors, peers and markets in extensive detail with the latest ratings, reports and data.
Enjoy product access through BestLink online and BestLink for Excel.
Your purchase includes:
Data:

Up to 11 years of financial data on insurers and reinsurers
PDFs of Annual and Interim Reports and Accounts
Detailed consolidated and unconsolidated balance sheet, technical accounts and non-technical accounts
A database of national "as-filed" data and country-specific templates

Reports:

Custom Report Wizard to search for data then generate reports including the data and ratios of your choice
Current and archived Best's Credit Reports
Best's Executive Summary Reports, for five years of financial and rating data for individual insurers
Preformatted reports, including Balance Sheet, Technical and Non-Technical Accounts, Financial Overview and Ratio Reports

Tools:

Worldwide Market Filters to create rankings quickly and easily:

Global Market Filter, based on consolidated worldwide groups and independent (non-affiliated) single companies
Country Market Filter, based on the individual insurers writing business in each country, excluding where possible cross-border international business

Data and analysis templates, for easy cross-border analysis
A flexible interface that lets you view data in your preferred layout and create your own anaylsis templates
Currency conversion feature
A US insurer Peer Selection tool
A US insurer Company Ranking tool to create reports showing the top insurers based on key financial fields

Company Information:

Corporate structure and data structure
Current and historical Best's Financial Strength Ratings and Best's Issuer Credit Ratings
Current and historical Best's Capital Adequacy Ratio (BCAR) scores
Best's Corporate Changes & Retirements, going back to 1819
Mergers and acquisitions database
The past six months of rate, rule and form filings for US companies that have filed P/C policies

Access to:
Important Links
Phone orders: In the US, Bermuda and the Caribbean, call +1 (908) 439-2200, ext. 5311. In Europe, Canada, Africa, Asia and Australia, call +44 20 7397 0290.
Multi-user enquiries, including organisation-wide access: +1 (908) 439-2200 ext. 5311.
<!###CONTENT:END###>