<!###CONTENT:BEGIN###>
Best's Schedule S
(Reinsurance) - Life/Health, United States
To order by phone:
(908) 439-2200, ext. 5311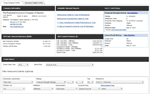 View profiles for filing companies and reinsurers/cedents in BestLink.
Get a solid understanding of the risk-sharing arrangements of thousands of insurers and the reinsurers with whom they do business.
With this database, you can:
Identify all reinsurers to which a company is ceding business, and all insurers from which a reinsurer is assuming business.
Assess the impact of a company's reinsurance strategy on its financial strength.
Determine where a company is licensed to write reinsurance business.
Access 11 years of financial data online with BestLink.
Integrate 11 years of financial data into your spreadsheets with BestLink for Excel.
Your purchase includes:
Reinsurance data for more than 1,380 life/health insurers and approximately 240 groups, as reported in Schedule S, Parts 1 through 5, of the NAIC annual statement.
A calculation of reinsurance recoverables in Part 3
Company profiles for filing companies and reinsurers/cedents, displaying ceded or assumed premiums, current Best's Credit Ratings, key financial indicators and available standard reports
A Wizard that take you step-by-step through the process of creating reports with reinsurance information
Group data -- view individual reinsurers and their detail or the detail for the entire group
Multiple standard reports, including a Reinsurance Summary
Statement pages in Excel format
The latest Best's Credit Ratings
Contact information for insurers and reinsurers
Companies' corporate structure
Historical Best's Financial Strength Ratings and Best's Issuer Credit Ratings
Best's Corporate Changes & Retirements, going back to 1819
BestAlert Service company tracking and notification system
Best's Review magazine
Important Links
Phone orders and inquiries: (908) 439-2200, ext. 5311
<!###CONTENT:END###>