<!###CONTENT:BEGIN###>
Best's Schedule F
(Reinsurance) - P/C, US
To order by phone:
(908) 439-2200, ext. 5311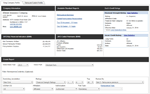 View profiles for filing companies and reinsurers/cedents in BestLink.
Get a solid understanding of the risk-sharing arrangements of thousands of insurers and the reinsurers with whom they do business.
Identify all reinsurers to which a company is ceding business, and all insurers from which a reinsurer is assuming business.
Assess the impact of a company's reinsurance strategy on its financial strength.

Determine where a company is licensed to write reinsurance business.

Access 11 years of financial data.

Enjoy product access through BestLink online, BestLink for Excel and FTP (contact us for FTP details and pricing).
Your purchase includes:
Data:

Reinsurance data for approximately 2,770 property/casualty insurers and approximately 325 groups, as reported in Schedule F, parts 1 through 8, of the NAIC annual statement

Group data -- view details for individual insurers or the entire group

Statement pages in Excel format

Tools:

Reports:

Company Information:

Company Profiles for filing companies and reinsurers/cedents, displaying ceded or assumed premiums, current Best's Credit Ratings, key financial indicators and available standard reports

Contact information for insurers and reinsurers

Corporate structure and data structure

Current and historical Best's Financial Strength Ratings and Best's Issuer Credit Ratings

Current and historical Best's Capital Adequacy Ratio (BCAR) scores

The past six months of rate, rule and form filings for US companies that have filed P/C policies

Best's Corporate Changes & Retirements, going back to 1819

Access to:
Important Links
Phone orders and inquiries: US: (908) 439-2200, ext. 5311; Europe: +44 20 7397 0290
<!###CONTENT:END###>