<!###CONTENT:BEGIN###>
Best's Market Share Reports
(One-Year Premiums and Loss Study)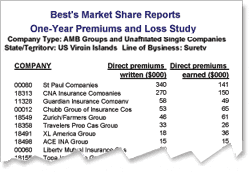 Choose a state and line to create your report.
To order by phone:
(908) 439-2200, ext. 5742
Find the best opportunities in the U.S. and Canada marketplace with Best's Market Share Reports, designed to show you the leading U.S. P/C companies writing business in the states and lines of your choice.
With these reports, you can:
Decide when to follow the pack -- or break away from it. Looking at the underwriting, sales and loss experience of leading companies will help your product development and competitive strategies.
Learn how your company fits into the big picture. These reports show current conditions set by industry leaders, so you can see how your company's experience compares.
Have confidence that the analysis is up-to-date. The online format ensures that you have the most current data, with maximum convenience and flexibility.
Your purchase includes:
An online report that can be exported, printed or downloaded within 14 days from the date of purchase, containing basic annual P/C statement data from page 19 of the NAIC statement blank, plus ratios and rankings for leading writers in states and lines you select. Data fields include market share (%), direct premiums written, direct premiums earned, dividends to policyholders, direct losses paid, direct losses incurred, pure loss ratio (%), incurred loss ratio (%), adjusted loss ratio (%), overall rank and single-company rank
Your choice of the following lines of business:

Standard Lines: 47 standard lines from page 19 of the P/C annual statement (statutory page 14)
Combined Lines: 23 of the most common line combinations
Group Studies and Total of All Lines

Your choice of any of the 50 U.S. states, Washington, D.C., and Total U.S., plus business written by U.S. companies in American Samoa, Guam, Puerto Rico, Virgin Islands, Canada and other countries, as well as a grand total for all of the above
Your choice of company type:

Affiliated and Unaffiliated Singles
A.M. Best Groups and Unaffiliated Singles
Note: Microsoft Excel or the Microsoft Excel viewer is required to access these reports. Microsoft Viewer is available on Microsoft's Support Web site.
Important Links

Price: $200 (U.S.) (Price is for one line of business in one state.)
Phone orders: (908) 439-2200, ext. 5742
<!###CONTENT:END###>