<!###CONTENT:BEGIN###>
Best's Library Center
Ready to add this resource to your library, or need more information?
Contact Corporate Sales for pricing and details:
(908) 439-2200, ext. 5311
sales@ambest.com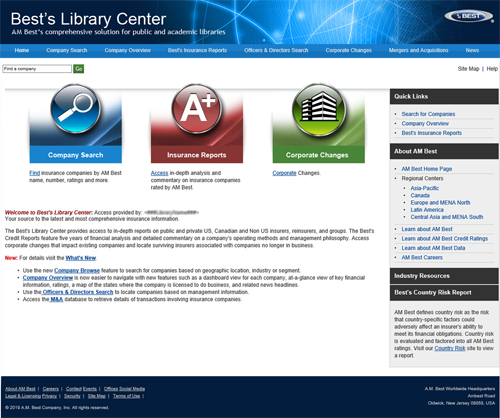 The Best's Library Center home page offers more resources and easier navigation.
Best's Library Center provides public and academic libraries with access to AM Best's premier analytical resource, Best's Insurance Reports, available in Property/Casualty, US & Canada; Life/Health, US & Canada; and Non-US editions.
Best's Insurance Reports features comprehensive, in-depth reports on thousands of insurers, reinsurers, and groups in the United States, Canada, and around the world. The Center is a cost-effective way to enhance your business resources, in a format that's ideal for a broad range of patrons:
Insurance policyholders and consumers researching an insurer
Business owners researching potential insurers
Small and independent investors considering investment opportunities in insurance companies
Students preparing for a career in insurance
Professors and academic researchers looking to enhance their curricula
With Best's Insurance Reports via Best's Library Center, you can:
In addition to reports, Best's Library Center offers:
Best's Corporate Changes and Retirements, an online database that chronicles important company changes going back to 1819
A Mergers & Acquisitions database with recent transactions involving insurers and reinsurers around the world
Original news reporting and industry research with Best's Review, AM Best's insurance news magazine
IP authentication for easy access by patrons and staff
The option to provide remote user access through your library's website (available to academic libraries only)
<!###CONTENT:END###>