<!###CONTENT:BEGIN###>
Best's Library Center
Ready to add this resource to your library, or need more information?
Contact Corporate Sales for pricing and details:
(908) 439-2200, ext. 5311
sales@ambest.com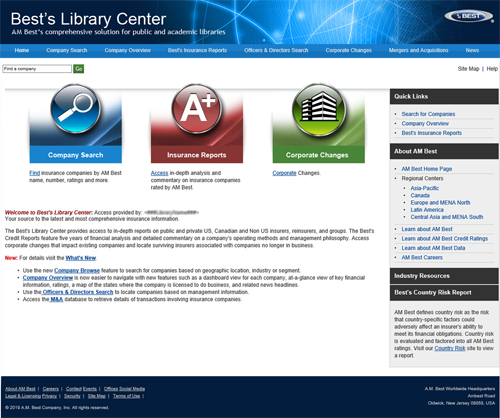 The new Best's Library Center home page offers more resources and easier navigation.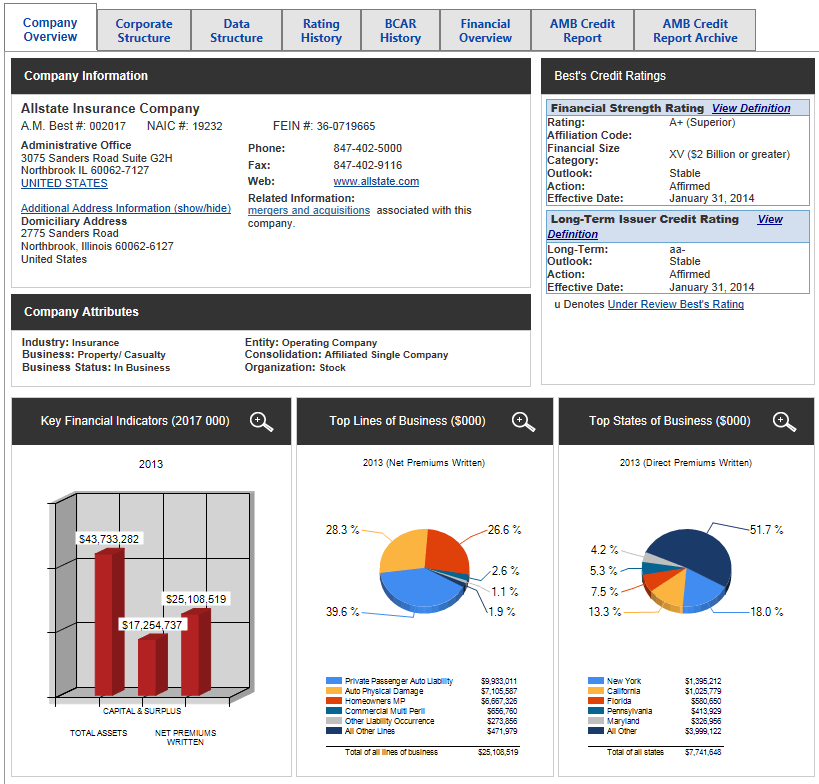 The redesigned Company Overview provides an at-a-glance view of key information.
Best's Library Center provides public and academic libraries with access to A.M. Best's premier analytical resource, Best's Insurance Reports, available in Property/Casualty, US & Canada; Life/Health, US & Canada; and Non-US editions.
Best's Insurance Reports features comprehensive, in-depth reports on thousands of insurers, reinsurers, and groups in the United States, Canada, and around the world. The Center is a cost-effective way to bring this resource into your library, in a format that's ideal for a wide range of patrons:
Consumers researching an insurer
Students preparing for a career in insurance
Business owners researching potential insurers
With Best's Insurance Reports via Best's Library Center, you can:
Search for public and private insurers and reinsurers according to highly customizable criteria you select.
Check a company's financial strength rating in real time and find out why it was assigned or changed.
Access in-depth analytical reports on insurers and reinsurers, explaining what makes a company secure or vulnerable.
Analyze key financial data and other critical factors impacting the financial performance of insurance companies.
Each report in Best's Library Center features:
Financial strength rating and size category
A Rating Rationale, which provides an insightful, detailed explanation of the reason behind a rating
Five-year rating history, to track a company's rating over time
Key financial indicators, including statutory data and performance ratios
A summary Business Profile of the company's ownership characteristics, market segments, branding strategies, and more
A Risk Management section offering information about the company's risk management and investment practices
An Operating Performance review that analyzes five years of profitability, underwriting experience, and investments, and compares a company against its industry composite
Balance Sheet Strength analysis, which includes details about a company's investment portfolio, capital generation, and quality of surplus, as well as leverage, loss reserve, and reinsurance analysis
Financial statement information, such as balance sheet, summary of operations, and income statement
Management information and company history
Complete company name, address, and contact information
In addition to the reports, Best's Library Center offers:
A printed volume of the Best's Insurance Reports edition purchased (Property/Casualty and Life/Health editions only)
Best's Corporate Changes and Retirements, an online database that chronicles important company changes going back to 1819
A Mergers & Acquisitions database with recent transactions involving insurers and reinsurers around the world
Original news reporting and industry research with Best's Review, A.M. Best's award-winning insurance magazine
IP authentication for easy access by patrons and staff
The option to provide remote user access through your library's Web site (available to academic libraries only)