<!###CONTENT:BEGIN###>
Best's Key Rating Guide
Property/Casualty - U.S. & Canada and Life/Health - U.S. & Canada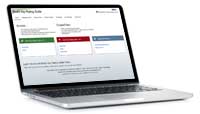 To order online:
To order by phone:
(800) 424-2378 or
(908) 439-2200, ext. 5742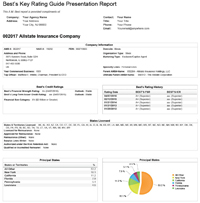 View a Sample Presentation Report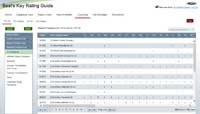 States Licensed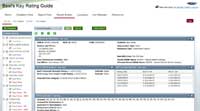 Report Builder
Designed with the insurance broker/agent in mind, Best's Key Rating Guide offers five years of ratings and key financial figures for insurance companies and HMOs.
Become an instant expert:
Confirm the creditworthiness of companies whose policies you recommend to clients.
Monitor Best's Credit Ratings, a recognized indicator for insurer financial strength.
Receive email alerts about rating changes for the companies you track.
Analyze insurers' performance trends.
Compare companies' financial results and ratios.
Determine which companies are licensed to do business in which states.
Create custom reports for presentations.
Your purchase includes:
Twelve months of online access to ratings and five years of annual financial data on property/casualty or life/health companies operating in the US and Canada:

Five most recent Best's Financial Strength Rating and Best's Long-Term Issuer Credit Rating events
Five years of key metrics:

Balance Sheet
Operations
Leverage, liquidity, profitability and loss reserves tests

States and lines of business
General company information

Personalized reports displaying selected data and company information
US financial rankings by admitted assets, net premiums written, gross premiums written and policyholders' surplus
Corporate structures and guaranty fund provisions by state, along with other state/territory and corporate resources
Company tracking via BestAlert®
Optional printed reference
One-year subscription to Best's Review® magazine, offering access to the BestDay® e-newsletter
View product information in brochure format.
*Property/Casualty and Life/Health editions sold separately.
<!###CONTENT:END###>