<!###CONTENT:BEGIN###>
Best's Key Rating Guide
Property/Casualty - U.S. & Canada and Life/Health, U.S. & Canada
To order online:
To order by phone:
(800) 424-2378 or
(908) 439-2200, ext. 5742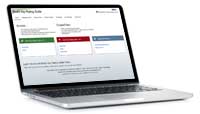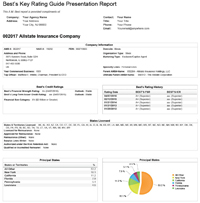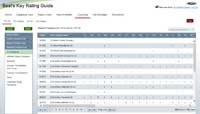 States Licensed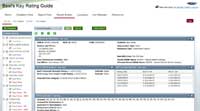 Report Builder
Get basic profile information--including Best's Credit Ratings and five years of key performance data--and easily create presentation reports on property/casualty and life/health insurers in the United States and Canada*.
Best's Key Rating Guide has provided the insurance industry with reliable third-party financial data for more than 100 years. It offers five years of key financial figures and Best's Credit Ratings for thousands of insurance companies and HMOS--plus personalized reports that display information on individual companies in a format ideal for client presentations and proposals.
Your purchase includes:
A printed reference with financial data on thousands of insurance companies operating in the U.S. and Canada.

New in 2016: Online access to the edition you purchase.

Personalized Presentation Reports, accessible in the online edition with options to customize the data and layout, as well as the option to include your own contact information.

Best's Review at all news service levels
Best's Insurance News & Analysis at the Full News Service level
Use it to:
Review a company's five most recent rating events.

Analyze balance sheet trends.

Determine an insurer's state of domicile and where it's licensed to do business.

Categorize companies by organization type and identify members of a group.

Generate corporate mailing lists and labels.

Search for, sort and print key financial results and ratios.

Investigate a company's financial dossier for strength and stability, then save and print personalized reports for client presentations or research purposes.
New!
Best's Key Rating Guide is now available online. Access to the new online version is included as part of your product purchase and features:
The most up-to-date Best's Credit Ratings

Access to annual data earlier in the year when filings are received and with updates throughout the year as insurers file year-end data

Options to create customized reports for presentations

The ability to create mailing labels
For additional details about the new online version of
Best's Key Rating Guide, please watch this video.
*Property/Casualty and Life/Health editions sold separately.
<!###CONTENT:END###>