This worldwide online insurer credit ratings and financial database and analysis system provides timely and accurate data on thousands of insurance companies. It is used extensively for insurer/reinsurer/counterparty credit risk analysis, strategic planning, asset management and M&A analysis.
Access all of AM Best's ratings and credit reports alongside up to 11 years of financial data on over 17,600 insurers worldwide: approximately 5,260 in Europe, 7,400 in North America, 2,150 in the Asia-Pacific region, 440 in the Middle East and North Africa and 2,390 in Latin America, the Caribbean and beyond.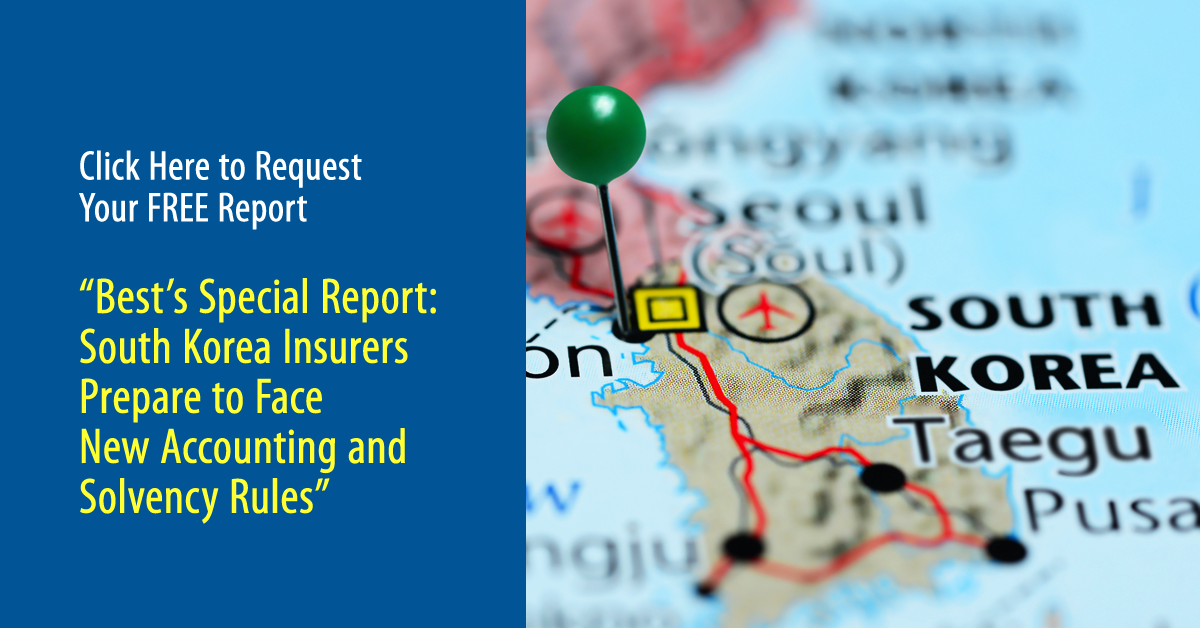 For those with a strong interest in European analysis, Best's Financial Suite - Solvency II is an ideal partner for Best's Financial Suite - Global, providing further insights into Europe's insurers, while Best's Financial Suite - UK offers PRA regulatory returns data for 2015 and prior, providing a resource for those seeking to analyze the past performance and reserving of UK-authorized insurers.
Perform cross-border and comparative analysis and view information in the currency of your choice.
Aggregate selected companies to create a single group company, country total or benchmark record and evaluate mergers.
Identify insurers and analyse groups with immediate and ultimate parent data, based on AM Best's analysis of corporate structures and ownership.
Download extended company rating histories, some exceeding 25 years.
Research and analyse companies, competitors, peers and markets with the latest ratings, reports and data.
Pull the latest ratings and financial data into your spreadsheets.
Up to 11 Years of Annual Data
Financial data for insurers and reinsurers worldwide
PDFs of Annual and Interim Reports and Accounts
Detailed consolidated and unconsolidated balance sheet, technical accounts and non-technical accounts
A database of National As Filed data and country-specific templates
Solvency II Solvency and Minimum Capital Requirement (SCR/MCR) ratios for EU insurers from 2016 onwards
Reporting Capabilities
Ready-to-use templates with standard reports are available, along with wizards to create custom reports using the data and ratios of your choice or to create or download statement pages in Excel or PDF.
Current and archived Best's Credit Reports
Best's Executive Summary Reports, for five years of financial and rating data for individual insurers
Preformatted reports, including balance sheet, technical and non-technical accounts, financial overview and ratio reports
Tools
Worldwide Market Filters to create rankings quickly and easily:

Global Market Filter, based on consolidated worldwide groups and independent (non-affiliated) single companies
Country Market Filter, based on the individual insurers writing business in each country, excluding where possible cross-border international business

Data and analysis templates, for easy cross-border analysis
A flexible interface to view data in your preferred layout and create anaylsis templates
Currency conversion feature
Peer Selection and Company Ranking tools for US insurers
Plus
Company Overview with Best's Credit Ratings, key financial indicators, corporate structure and data structure, and investment portfolio analysis
Historical Best's Financial Strength Ratings, Best's Issuer Credit Ratings and Best's Capital Adequacy Ratio (BCAR) scores—BCAR depicts the quantitative relationship between a rating unit's balance sheet strength and its operating risks
Corporate changes and retirements: domiciliary changes, company name changes, suspended/surrendered licenses and more, along with a database of mergers and acquisitions involving insurers
Features that let you collaborate on lists with colleagues and incorporate saved lists into our reporting and analysis tools
Key numeric identifiers such as AM Best #, NAIC #, FEIN # and Legal Entity Identifier
Email alerts on companies you're monitoring
News, special reports and rankings to add further insight to your analysis (for one user)
Multiple Delivery Options
BestLink, which offers online access to financial data and insurer analysis
BestLink for Excel, our downloadable add-in
BestLink Data Feeds, which transmit data to the subscriber's FTP site (additional fee applies)
Important Links
Phone orders: In the US, Bermuda and the Caribbean, call +1 (908) 439-2200, ext. 5311. In Europe, Canada, Africa, Asia and Australia, call +44 20 7397 0290.
Multi-user enquiries, including organisation-wide access: +1 (908) 439-2200 ext. 5311.
For more information, a demonstration or to order:
Europe & MENA:
+44 20 7397 0292
or
europe.sales@ambest.com
US & Asia-Pacific:
+1 (908) 439-2200, ext. 5311
or
sales@ambest.com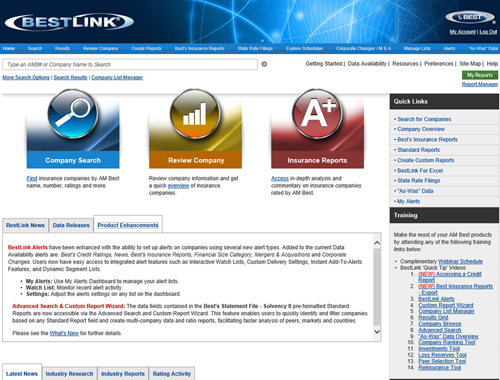 Access BestLink for information on over 17,600 insurers.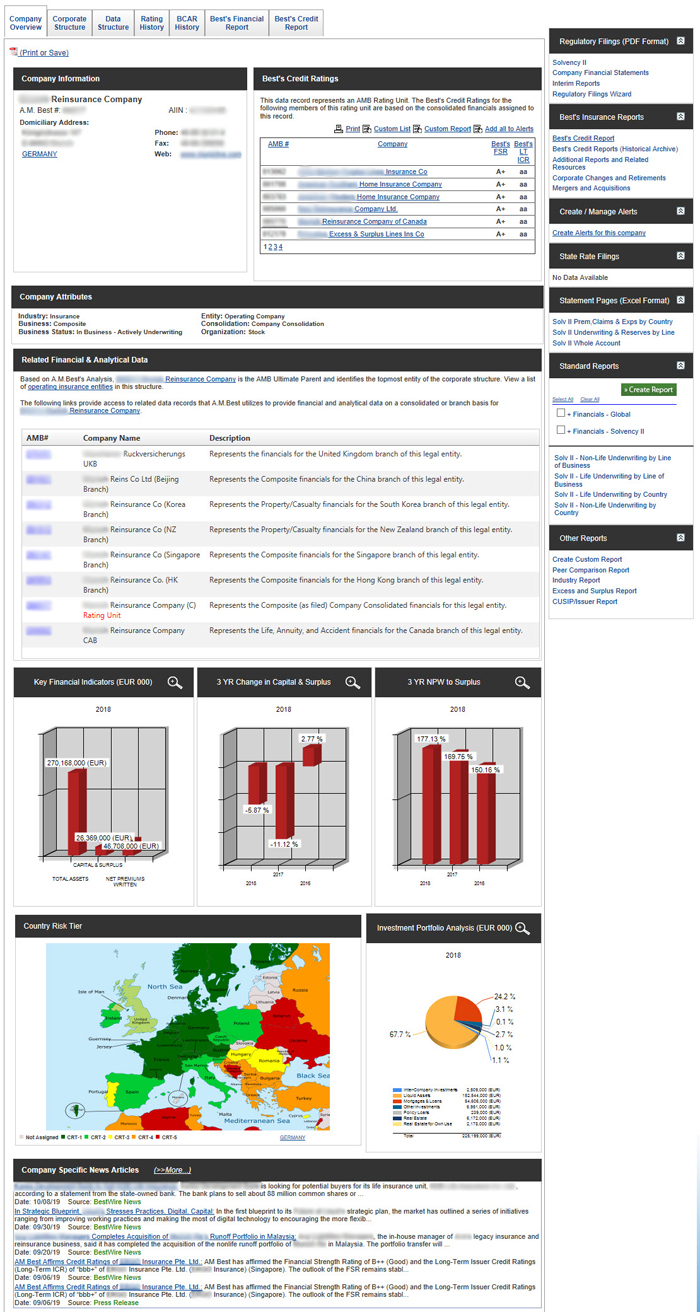 View detailed information about each insurer.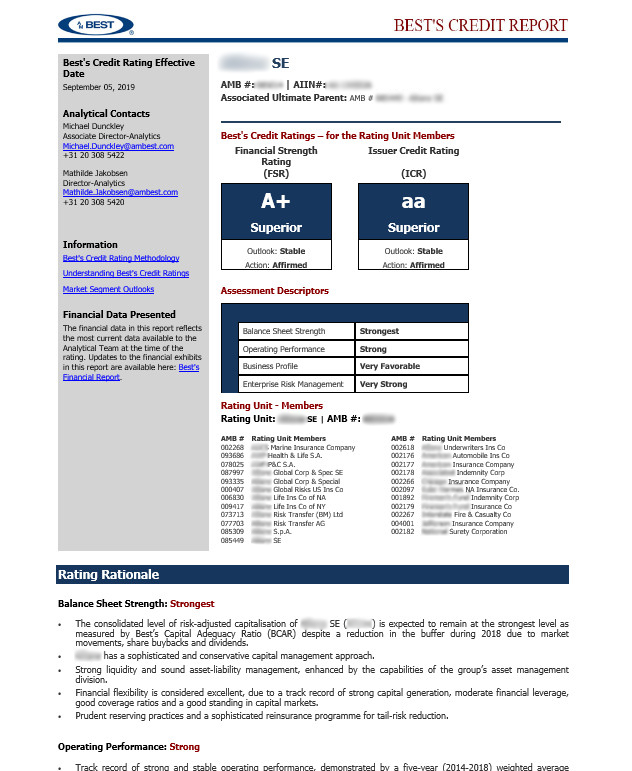 Best's Credit Reports