<!###CONTENT:BEGIN###>
Underwriting & Loss Control Resources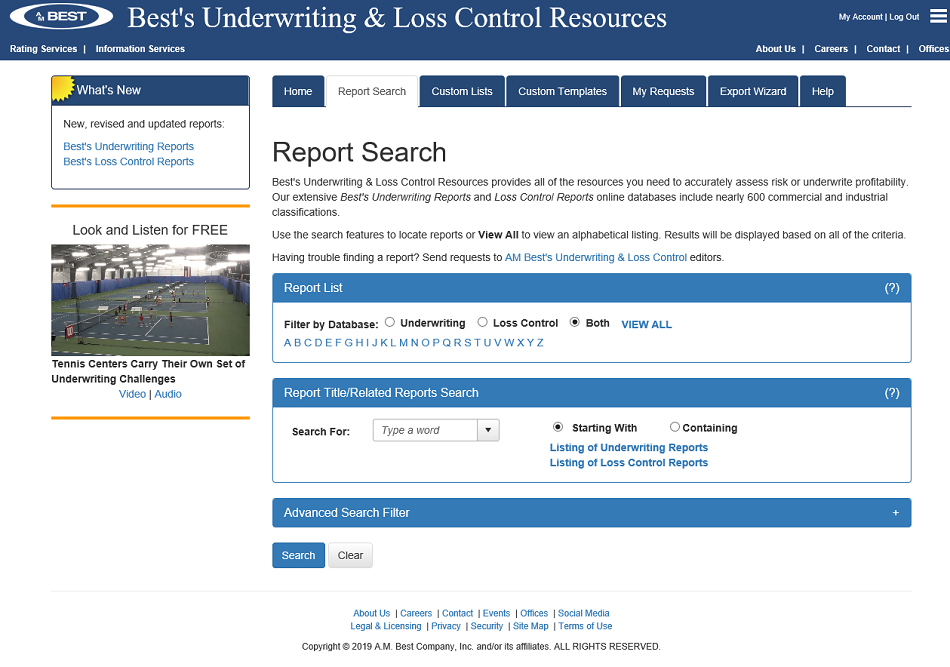 Search for Reports Online
To order by phone:
(800) 424-2378 (US)
+44 20 7397 0290 (Europe)
+852 2827 3400 (Asia Pacific)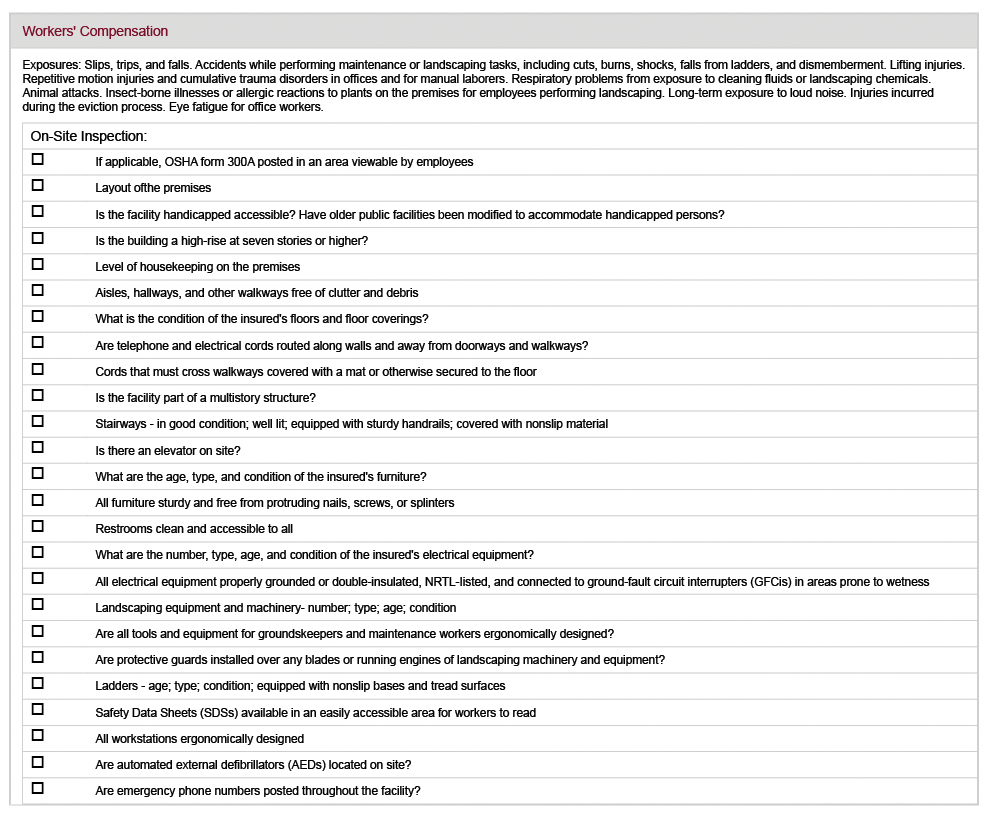 View a Sample Check List
Underwriting & Loss Control Resources is a web-based risk management tool composed of detailed Underwriting Reports and Loss Control Reports. Reports can be purchased individually or as part of a subscription that provides access to all reports for Underwriting or Loss Control (or both).
Underwriting & Loss Control Resources provides everything users need to accurately assess risk or make informed underwriting decisions. The reports cover nearly 600 commercial and industrial classifications, including a variety of businesses, like restaurants and antique stores, as well as municipal services, such as libraries and recycling centers.
Best's Underwriting Reports examine each business' unique risks from an underwriter's point of view. The reports provide a complete description of what workplace hazards to look for and how to avoid them.

Best's Loss Control Reports provides convenient checklists of things to look for during on-site inspections of businesses to help users evaluate risks to employees, patrons and visitors.
Each Best's Underwriting and Best's Loss Control Report includes:
A profile of the type of business, including a list of materials and equipment used on a daily basis
Best's Hazard Index, which quantifies the degree of liability in applicable lines of insurance
Standard Industrial Classification (SIC) and North American Industry Classification System (NAICS) codes
Occupational Safety and Health Administration (OSHA) standards pertaining to that type of business
Underwriting & Loss Control Resources put the information you need in one convenient place using the speed and flexibility of the internet. It offers extensive search and customization options while providing access to reports on hundreds of classifications.
Your purchase includes:
A subscription to all the reports in Best's Underwriting and/or Best's Loss Control Reports*
Valuable checklists, detailing important aspects to consider when evaluating a particular coverage line
Report updates, with new and revised classifications as soon as they are published
A one-year subscription to Best's Review®, our monthly insurance magazine, and the BestDay®, our daily insurance newsletter
*Non-subscribers may purchase individual reports.
Important Links