<!###CONTENT:BEGIN###>
Best's Insurance Reports
Property/Casualty, United States & Canada
To order by phone:
(908) 439-2200, ext. 5311
To order online:
To access BestLink:
(Log-in required)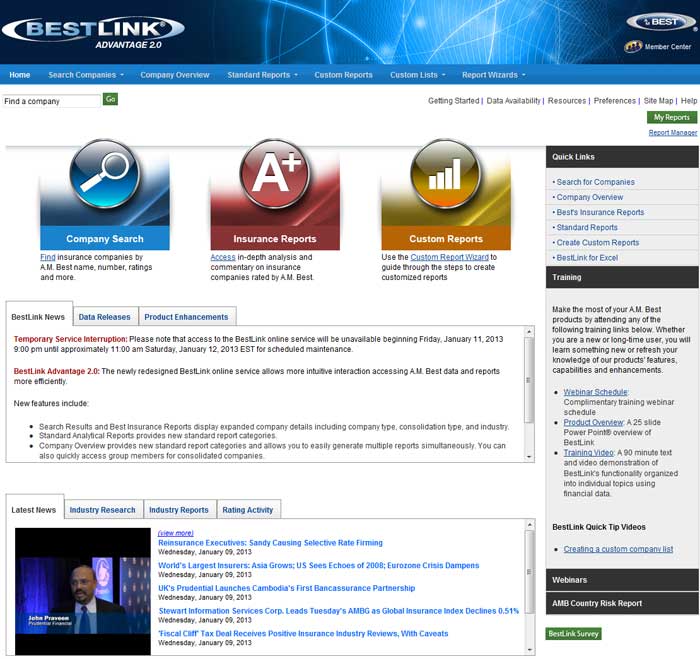 BestLink is a versatile, one-stop resource.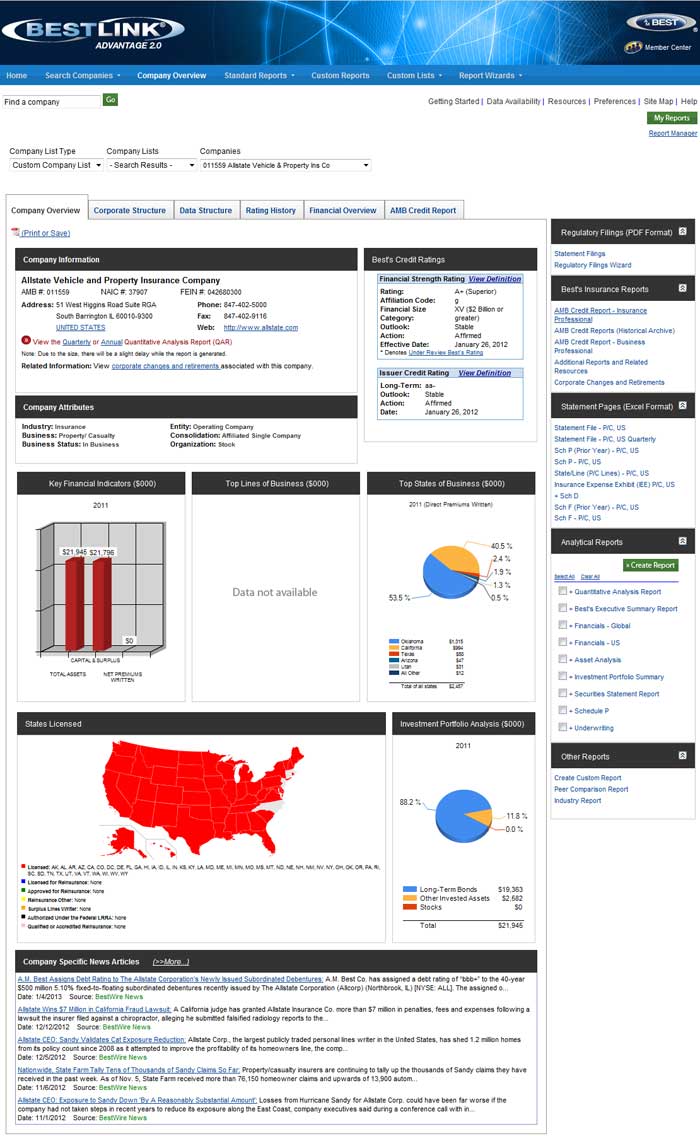 Search for property/casualty insurers according to a variety of criteria.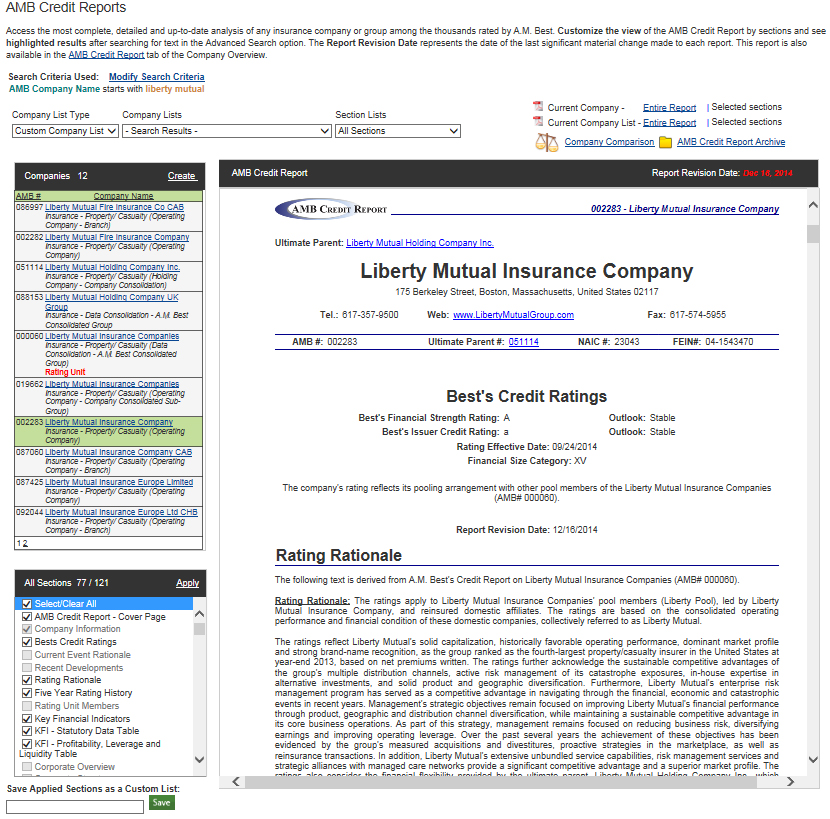 Access complete insurer reports online.
A.M. Best's flagship product -- available online via BestLink -- provides in-depth AMB Credit Reports on thousands of U.S. and Canadian property/casualty insurers, reinsurers and groups, plus a database of corporate changes and retired companies since 1819.
Each AMB Credit Report features:
Best's Credit Ratings, Financial Size Category and five-year rating history
A Rating Rationale that explains the factors considered in assigning the insurer's Best's Credit Rating
Key Financial Indicators, including statutory data (U.S.) and performance ratios
Business Profile that explains company operations, market presence, ownership characteristics, lines of business and more
Examination of risk management practices, including potential catastrophe exposure and investment risk
Operating Performance review analyzing five years of profitability, underwriting experience and investments, in comparison with an industry composite
Balance Sheet Strength analysis, including capital generation, quality of surplus, underwriting leverage, reinsurance, loss reserves, liquidity, cash flow and investments
Relevant milestones in the company's history
Reinsurance arrangements
Management information
Financial statement information such as balance sheet, summary of operations, income statement and cash flow
Peer Reports, for a quick, meaningful analysis of a company compared to its competitors*
Links to regulatory statement pages and detailed financial data from within the reports, to broaden your research and give you a more comprehensive look at the numbers behind a Best's Credit Rating*
*Accessible only to subscribers of both Best's Insurance Reports and Best's Statement File - US.
With a subscription to Best's Insurance Reports, you can:
Check a company's Best's Credit Rating in real time, find out why a rating was assigned and uncover trends.
Read our in-depth commentary on operating methods.
Review a company's history and reinsurance agreements.
Use basic or advanced search capabilities to identify companies according to financial, numerical and text fields and create company lists.
Export entire AMB Credit Reports in PDF or customize them by selecting the sections you need for your research.
Export financial data into Excel spreadsheets for competitive research and benchmarking analysis.
Use the Company Comparison Report to compare two insurers in the same industry.
Find peers for U.S. insurers with the Peer Selection tool.
Create reports showing top U.S. insurers based on key financial fields like net premiums written, assets, policyholders surplus and other criteria, using the Company Ranking tool.
Obtain management information and names and addresses for officers and directors.
Research changes impacting existing companies, locate surviving insurers for companies that have gone out of business and more, with Best's Corporate Changes and Retirements, which includes information dating back to 1819.
Access recent mergers and acquisitions in the M&A database.
View AMB Country Risk Reports for insight into a country's accounting, regulatory and economic issues, and their impact on the insurance industry.
See an interactive corporate structure, data structure, financial overview and more for each insurer, plus a detailed company overview.
Review up to 25 years of rating history and 10 years of historical Best's Capital Adequacy Ratio scores.
Your subscription includes:
Access to AMB Credit Reports on 4,700 property/casualty insurers
Access to historical AMB Credit Reports for any insurers in this edition of Best's Insurance Reports, dating back to 2001.
Best's Corporate Changes and Retirements
Mergers and acquisitions database
AMB Country Risk Reports
A two-volume set of the printed version of Best's Insurance Reports - Property/Casualty, U.S. & Canada
BestAlert Service company-tracking and notification system
Best's Review magazine
Best's Insurance News & Analysis, A.M. Best's complete news and research service, at the Full News Service level
Important Links:
Regular News Service Price: $1,675 (U.S.)
Full News Service Price: $2,540 (U.S.)
Delivery charges: $14.50
Phone orders: (800) 424-2378 (U.S.); +44 20 7397 0290 (Europe)
Multi-user inquiries, including organization-wide access: (908) 439-2200, ext. 5311
<!###CONTENT:END###>