<!###CONTENT:BEGIN###>
BestLink
A.M. Best's powerful online service gives you instant access to products from A.M. Best's Financial Suite and Best's Insurance Reports. With BestLink, you always have access to our top-quality financial data, Best's Credit Ratings, insurer analysis and tools, to perform research that has greater strategic value and to gain the competitive edge you need in the insurance industry.
To learn more or order any of the products listed:
sales@ambest.com
or
(908) 439-2200, ext. 5311
To access BestLink:
(registration required)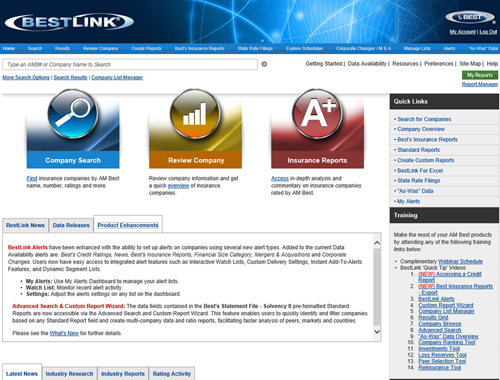 BestLink Home Page
(click to enlarge)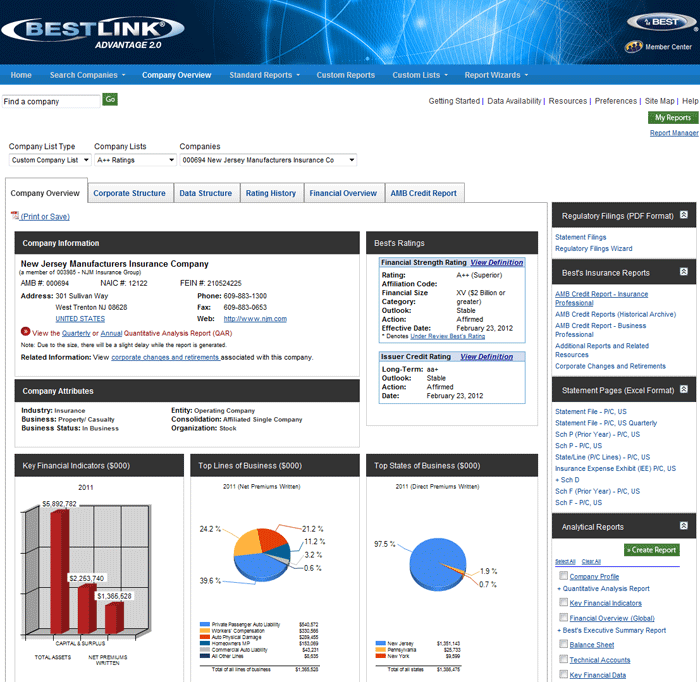 BestLink Company Overview
(click to enlarge)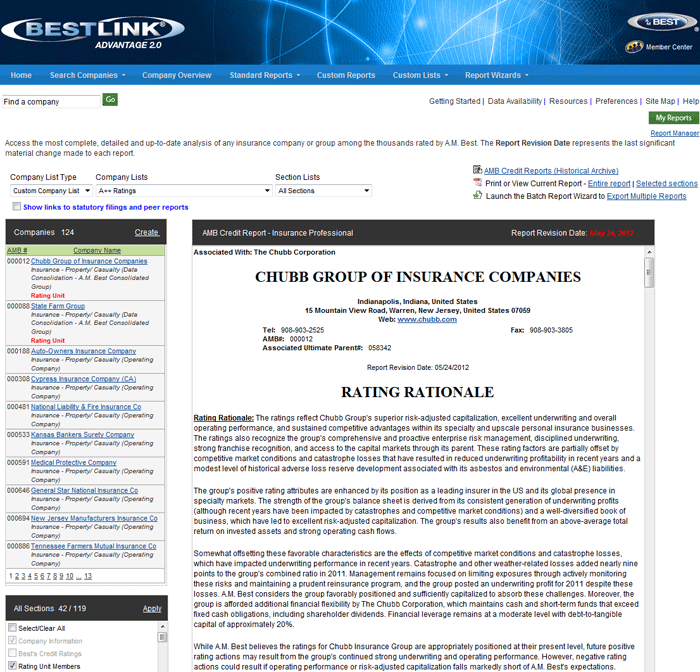 Best's Credit Reports
(click to enlarge)

What is BestLink?
BestLink is an online platform that integrates the unparalleled insurance analysis available in Best's Insurance Reports with the high-quality data included in A.M. Best's Financial Suite products.
Who has access to BestLink?
Whether you subscribe to products in A.M. Best's Financial Suite, Best's Insurance Reports or both, you will have access to your product subscription through BestLink. Your subscription will determine what kind of information you have access to.
What is BestLink for Excel?
We offer an easily downloadable add-in that gives subscribers to the Financial Suite products access to data and reports through Microsoft Excel. It's a convenient feature for customers who are most comfortable working in the Excel environment.
With BestLink you can:*
Power your research with analysis from the latest Best's Credit Reports, and spot trends over time with rating histories.
Drill deeper into the numbers behind Best's Credit Ratings and performance ratios with statutory data for thousands of insurance companies.
Perform trend analysis, financial planning/review and competitive benchmarking with Best's Quantitative Analysis Reports -- the same reports used by A.M. Best rating analysts.
Compare your company against competitors or peers, industry composites (such as workers' compensation) or the total industry for meaningful benchmarking that helps you see areas of strength and vulnerability.
Create Custom Reports by merging information drawn from all of the products to which you subscribe. Create and save custom search criteria, lists and templates.
Access "As-Was" data -- filings and group structures insurers had in place at year-end for each of the past eleven years.
Search across products to locate companies based on criteria common to multiple products.

See where US insurers rank within an industry based on selected financial fields.

Find peers for US insurance companies.

View the past six months of US state rate, rule and form filings for property/casualty lines.

Research changes impacting existing companies, locate surviving insurers for companies that have gone out of business and more with Best's Corporate Changes and Retirements.

Generate statement pages in Excel for any number of companies and years.

Use the "Explore Schedules" tools to access report wizards, company profiles and search features for reinsurance, loss reserves and investment data.

Get a sense of an insurer's past performance with historical financial strength and issuer credit ratings.

View parent and ultimate parent information, plus a list of companies within the same corporate entity in the interactive Corporate Structure feature.

Consult the Data Structure reference to see A.M. Best groups, subgroups and member companies, along with business type, consolidation type, domicile and statement type with the most recent data year.
*Access to features depends on products purchased.
Products available via BestLink with a subscription include:
Best's Insurance Reports
A.M. Best's Financial Suite
Important Links & Information: