<!###CONTENT:BEGIN###>
BestLink
BestLink is a powerful service that gives you online, instant access to products from A.M. Best's Financial Suite and Best's Insurance Reports. With BestLink, you always have access to A.M. Best's financial and rating database, the world's largest, most comprehensive collection of insurance industry information and superior-quality analysis.
To learn more or order any of the products listed:
sales@ambest.com
or
(908) 439-2200, ext. 5311
To access BestLink:
(registration required)
BestLink Home Page
(click to enlarge)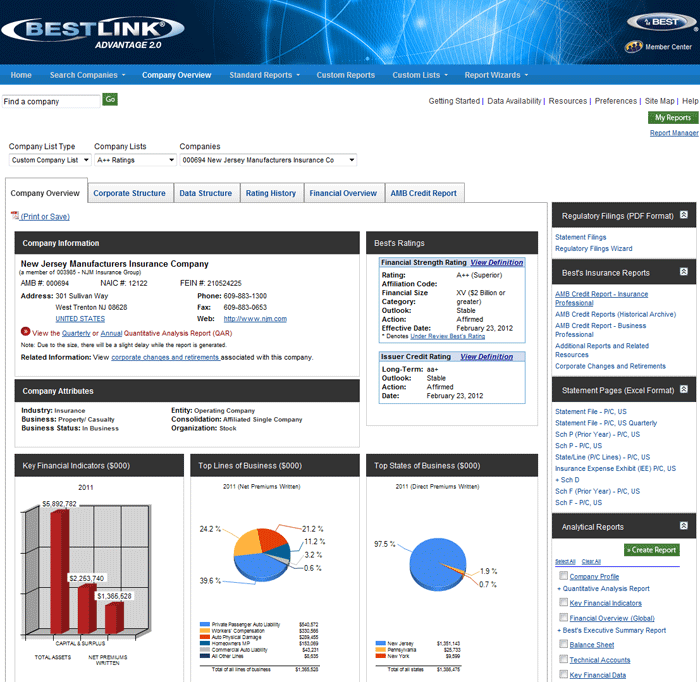 BestLink Company Overview
(click to enlarge)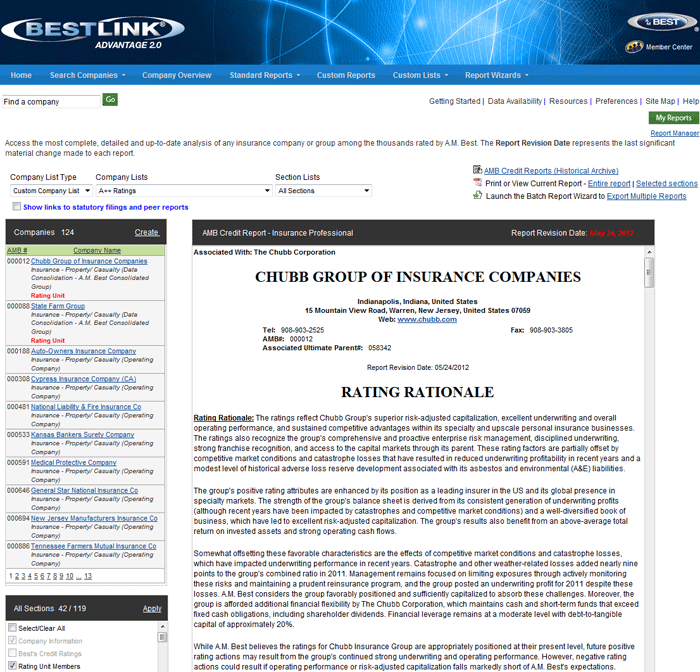 AMB Credit Reports
(click to enlarge)
Recent enhancements include:
An Explore Investments tool that lets you analyze investments owned by insurance companies, get an overview of investment data for insurers and groups, search for companies or specific investments, and create reports for multiple companies
"As-Was" data, for access to filings and group structures insurers had in place at year-end for each of the past 11 years
A Key Trending Report that compares a company's "As-Was" and "As-Is" data, showing you the impact of an event like a merger or sale on the company's financials over time
Long-Term and Short-Term Issuer Credit Rating histories
Outlook, Rating Action and Financial Size Category histories
The past six months of U.S. state rate, rule and form filings for property/casualty lines
With BestLink you can:
Access Best's Credit Ratings, financial data and reports online, without having to install any software.
Hyperlink to data in A.M. Best's Financial Suite products from exhibits in the AMB Credit Reports in Best's Insurance Reports.
Search across the A.M. Best Financial Suite or Best's Insurance Reports to locate companies based on criteria found in more than one product (subscribers may access data only for products they've purchased).
Create Custom Reports based on your parameters, or choose from a wide selection of Standard Reports that include sophisticated analysis on individual companies as well as comparison and composite reports to benchmark an insurer's performance against that of other companies.
Generate Statement Pages for any number of available companies and years. All U.S. data is presented in NAIC statement format going back to 2003. Canadian data is in OSFI format; U.K. data is in FSA format. Combined with a subscription to Best's Insurance Reports, users can access Statutory Data from within AMB Credit Reports.
View AMB Credit Reports that give insight into what makes one company secure and another more vulnerable with an in-depth Rating Rationale that explores management policies and corporate philosophy, along with key financial indicators of a company's performance record (available with Best's Insurance Reports and Best's Statement File - Global).
Review Peer Reports from within AMB Credit Reports, which provide a quick, meaningful analysis of the company selected, compared to its industry competitors. Peer Reports require no additional research and are formatted with relevant charts and graphs (available only to subscribers of both Best's Insurance Reports and Best's Statement File products).
Perform trend analysis, financial planning and review, and competitive benchmarking with Best's Quantitative Analysis Reports (QAR). These reports, developed and used by A.M. Best rating analysts during the rating process, include five years of profitability, liquidity and leverage data. They are an invaluable tool for comparing a company's operating performance and financial condition to those of specific peers, industry composites or the total industry (available with Best's Statement File - Property/Casualty and Life/Annuity, U.S.).
Products available via BestLink with a subscription include:
Best's Insurance Reports
A.M. Best's Financial Suite
Important Links & Information: