<!###CONTENT:BEGIN###>
BestLink
AM Best's powerful online service gives you instant access to products from Best's Financial Suite and Best's Insurance Reports. With BestLink, you have access to our top-quality financial data, Best's Credit Ratings, insurer credit analysis and tools to analyze global insurers and reinsurers.
To learn more or request a demonstration:
sales@ambest.com
or
(908) 439-2200, ext. 5311
To access BestLink:
(registration required)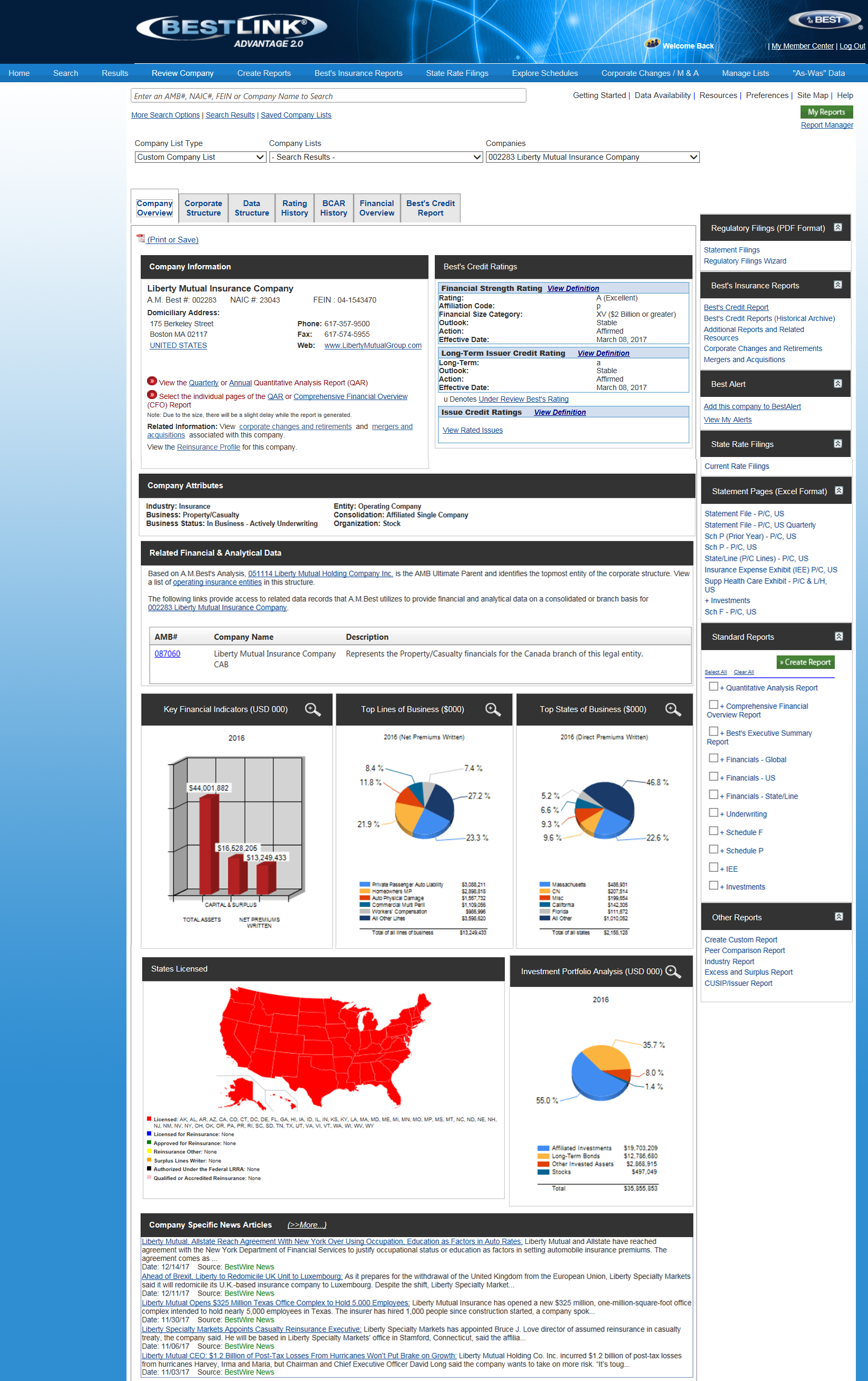 BestLink Company Overview
Power your research with AM Best's credit analysis.
Drill into the numbers behind Best's Credit Ratings with financial data and performance ratios for thousands of insurers worldwide.
Perform trend analysis with historical ratings and eleven years of restated data to reflect current group structure, or review "as was" data to analyze companies and group structures that were in place at year-end for each of the past 11 years.
Perform benchmarking analysis by comparing the operating performance, business profile and balance sheet strength of insurers against peers, industry totals or composites.
Understand corporate structures worldwide and across industries, or analyze industry totals using AM Best's group structures within particular data sets.

Seamlessly access your subscriptions to Best's Insurance Reports and any of the Best's Financial Suite products by searching for companies using criteria from all of your products or by generating reports in Excel.

View the past six months of US state rate, rule and form filings for property/casualty lines.

Research changes impacting existing companies, locate surviving insurers for companies that have gone out of business and more with Best's Corporate Changes and Retirements.
In addition to online access through BestLink, our financial data is also available via:
We offer an easily downloadable add-in that gives subscribers to Best's Financial Suite access to the latest data through Microsoft Excel.
Best's Financial Suite subscribers can choose to request data feed deliveries for the products they license via BestLink with our self-service application. Data files are transmitted to the subscriber's FTP site in text format.
For more information: