<!###CONTENT:BEGIN###>
BestLink for Excel
BestLink for Excel takes advantage of the Microsoft Excel platform to provide greater flexibility and value to AM Best data purchasers. BestLink for Excel includes wizards and quick report options that enable users to download data items from Best's Financial Suite databases directly into Excel.
To learn more:
sales@ambest.com
or
(908) 439-2200, ext. 5311
(North America)
europe.sales@ambest.com
or
+44 20 7397 0290
(UK and abroad)
Already a subscriber?
Download the BestLink for Excel application.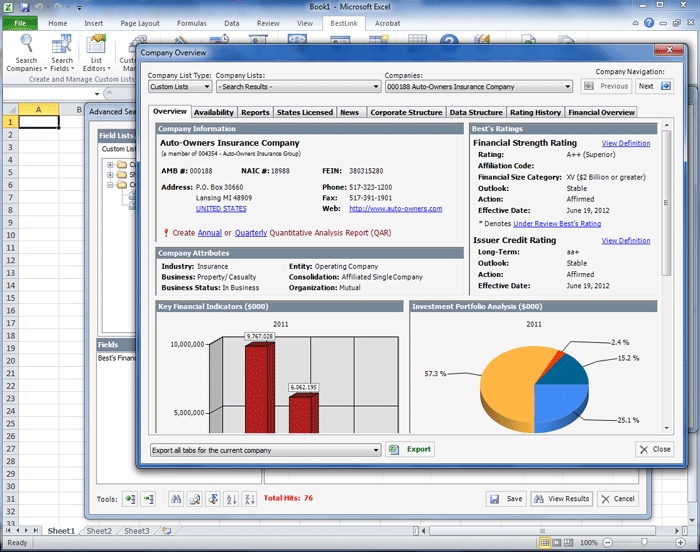 Company Overview (click to enlarge)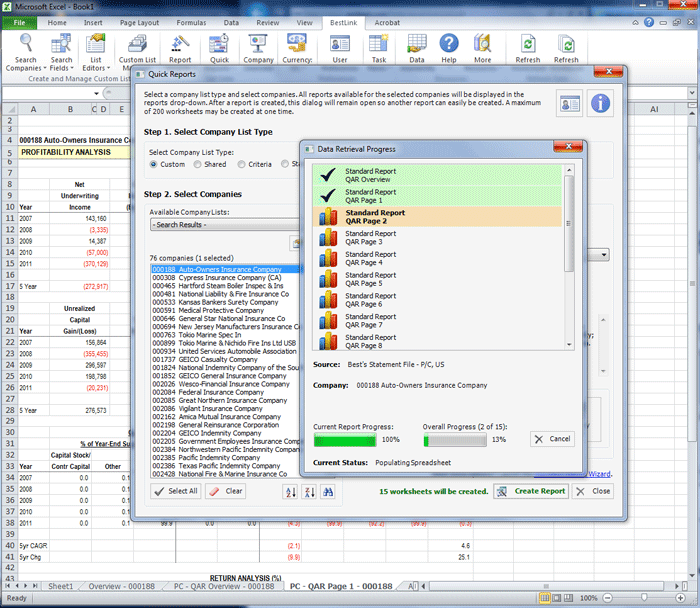 Create Reports (click to enlarge)
Import Data (click to enlarge)
Take advantage of direct access to every field from nearly all of the product databases in Best's Financial Suite.
Scan your workbooks for the presence of AM Best data references and find out if your data is current -- if it isn't, the latest data can be uploaded quickly and easily.
Select the companies, data fields, years, and in some cases the states and lines of business to create custom reports.
Use the Advanced Query options to search our database and locate insurers based on a wide range of criteria, including top insurers for any financial data field.
Features include:
Direct Online Access: Connect via Microsoft Excel to ratings, financial data and reports.
Reports: Create reports based on your parameters or choose from several standard reports, including Best's Executive Summary Reports, Best's Market Share Reports, and Best's Company Profile Reports. Composite and Comparison Reports are available to benchmark an insurer's performance against that of other companies or a peer group composite.
Statement Pages: Generate any combination of companies, years and pages in Excel format. All US data is presented in NAIC statement format covering the past three years of returns. Canadian data is presented in OSFI format.
Currency Converter: View data in the currency of your choice using current and historical exchange rates (Best's Financial Suite - Global only).
<!###CONTENT:END###>