<!###CONTENT:BEGIN###>
Best's Credit Reports
To order a report for an insurer of your choice:
(800) 424-2378
(908) 439-2200, ext. 5742
or
customer_service@ambest.com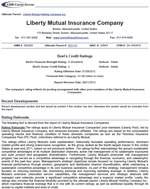 Best's Credit Reports offer a streamlined, easy-to-use presentation.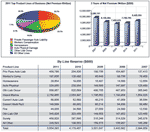 Charts and tables accompany key information.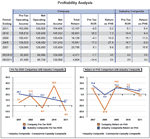 Increase your understanding of an insurer with in-depth information.
Best's Credit Reports, available for individual purchase or with a subscription to Best's Insurance Reports, provide the most comprehensive, up-to-date analysis of an insurer's financial results and performance. These reports look beyond an insurer's data to examine every major facet of a company and give you expert commentary you won't find anywhere else. Deepen your understanding of the insurers that matter most to you with Best's Credit Reports.
With Best's Credit Reports, you can:
Check a company's Best's Credit Rating, find out why a rating was assigned or changed, and uncover trends with a five-year rating history.
Learn what makes one company secure and another more vulnerable with our in-depth commentary on a company's operating methods and management philosophy.
Find out who the principal officers are and get complete company name and address information.
Research a competitor, or a potential insurer or reinsurer.
Gain 14 days of online access to the multi-page report, which can be printed by the purchaser for personal use.
Each report features:
Best's Credit Rating, and Financial Size Category and five-year rating history
A Rating Rationale that explains the factors considered in assigning the insurer's Best's Credit Rating
Key Financial Indicators, including statutory data (US) and performance ratios
Business Profile detailing market segments, branding strategies, ownership characteristics and more
Examination of risk management practices, including potential catastrophe exposure and investment risk
Operating Performance review analyzing five years of profitability, underwriting experience and investments, in comparison with an industry composite
Balance Sheet Strength analysis, including capital generation, and quality of surplus, underwriting leverage, reinsurance, loss reserves, liquidity, cash flow and investments
Relevant milestones in a company's history, as well as changes in management
Reinsurance arrangements

Financial statement information, such as balance sheet, summary of operations, income statement and cash flow
Important Links:
Price: $110 for current report; $78 for historical report
Phone orders: (908) 439-2200, ext. 5742
<!###CONTENT:END###>