<!###CONTENT:BEGIN###>
Best's Aggregates & Averages - Online -
Life/Health, United States & Canada
To order online:
To order by phone:
(908) 439-2200 ext. 5311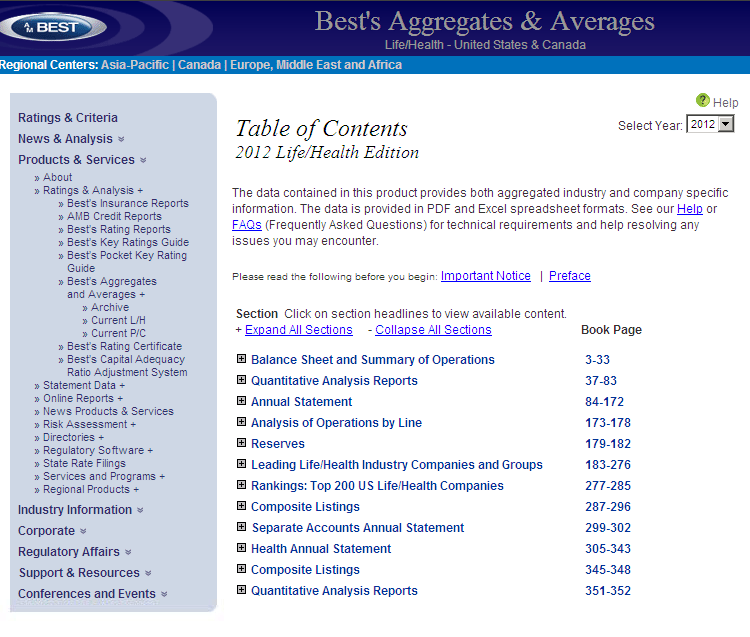 The Table of Contents links to all exhibits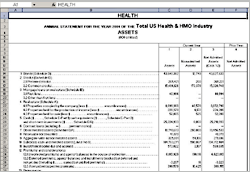 Exhibits are presented as spreadsheets
A.M. Best has added 21st-century functionality to this classic benchmarking tool by making it available online. The same vital information in the printed reference is accessible online as Microsoft® Excel spreadsheets for greater convenience, speed and flexibility in analyzing industry-wide performance.
Enjoy the benefits only an online, Excel-based resource can provide:
Perform calculations without having to rekey data into your spreadsheets.
Create custom reports quickly and easily.
Save any exhibit to your computer for future benchmarking and research.
Your subscription includes:
Online access to Excel spreadsheets that present a detailed compilation of L/H industry results for the current data year and data dating back to 2005*
A printed reference that contains the same information presented online *
Mixed annual data from the life and health statements to provide a more complete picture of the life and health industries
A separate database of prior-year data
Aggregated information for the L/H industry, including:

Balance Sheet and Summary of Operations - consolidated data on the life/health Total Industry, Industry Segments and Industry Composites
Quantitative Analysis Reports - a comprehensive review of key financial and operating performance measures within three critical evaluation areas: Profitability, Investments and Liquidity, and Leverage/Capitalization
Annual Statement - Key pages of the Annual Statement for the current year L/H Total Industry, Industry Segment and Industry Composite records, with appropriate eliminations applied for interownership
Analysis of Operations by Line - detailed income statements for each primary business line, on a total industry basis, with a condensed 10-year history by line
Reserves - detailed information by line for Life, Annuity, and Accident and Health reserves on a total industry basis with a 10-year history

Company-specific information, including:

Leading Companies and Groups - rankings of the leading writers of L/H insurance based on Assets, Net Premiums Written, and other measures
U.S. and Canadian Company Rankings - listings of the top U.S. and Canadian L/H groups and unaffiliated single companies as ranked based on Assets, Net Premiums Written and other measures

Best's Review magazine
*Please note: Data files for the online publication are done on a yearly basis and do not typically include data updates throughout the year.
**The current year's book will be mailed in September.
Important Links
Regular News Service Price: $975 (U.S.)
Delivery Charges: $13.00 (U.S.)
Phone orders and multi-seat inquiries, including organization-wide access: (908) 439-2200 ext. 5311 (U.S.); +44 20 7397 0290 (Europe)
<!###CONTENT:END###>