<!###CONTENT:BEGIN###>
Best's Statement File - Global
For more information, a demonstration or to order:
Europe & MENA:
+44 20 7397 0292
or
europe.sales@ambest.com
U.S. & Asia-Pacific:
+1 (908) 439-2200, ext. 5311
or
sales@ambest.com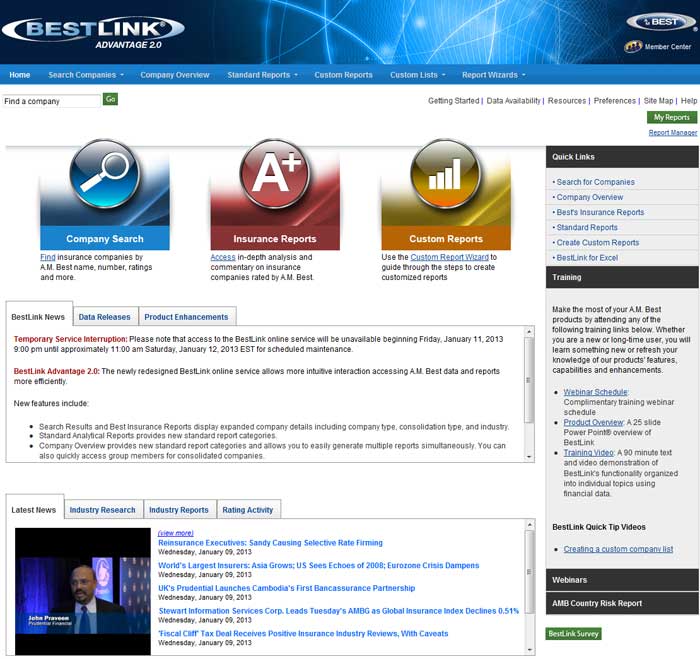 Access BestLink for information on over 16,900 insurers.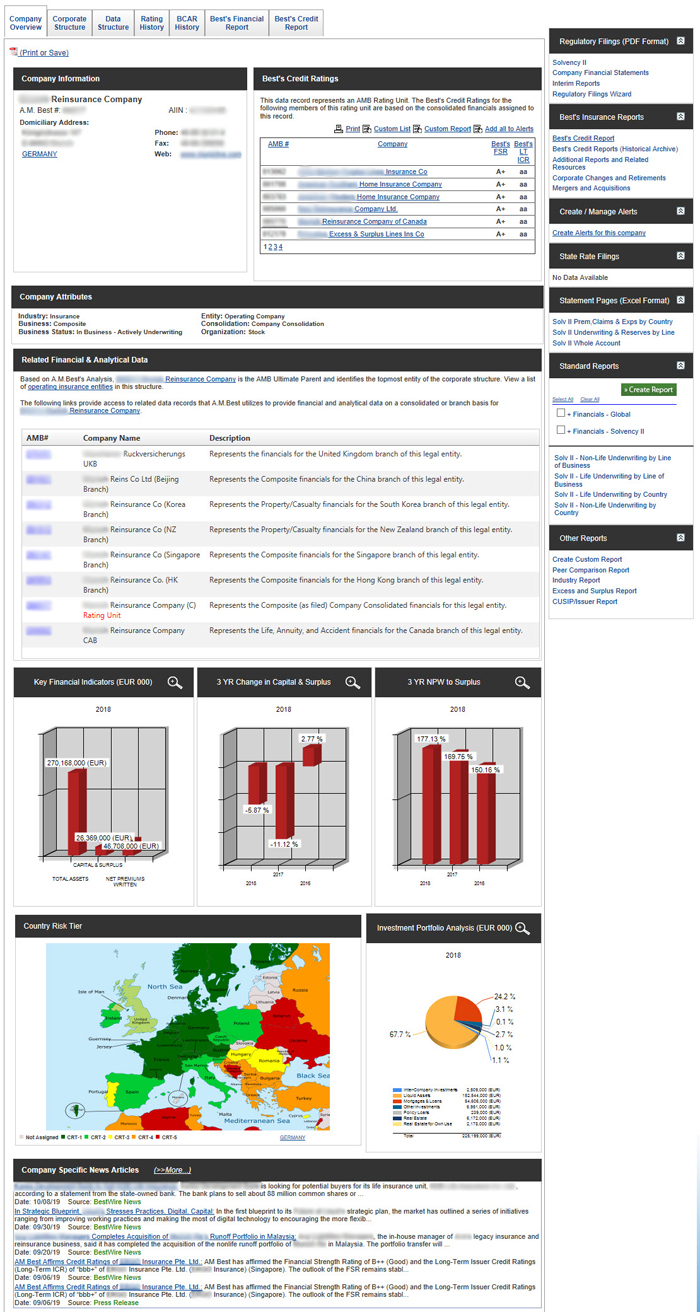 View detailed information about each insurer.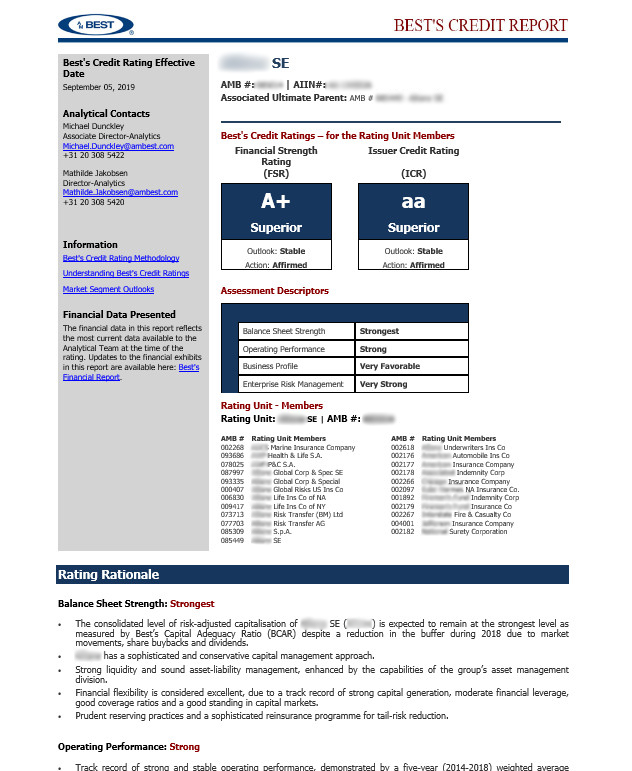 AMB Credit Reports
This worldwide online insurer credit ratings and financial database and analysis system provides timely and accurate data on over 16,900 insurance companies. With historical and quantitative information, the latest Best's Credit Ratings, credit reports and a customisable report generator, Best's Statement File - Global is used extensively for insurer/reinsurer/counterparty risk analysis, strategic planning, investment and M&A analysis.
Use it to:
Access to up to 11 years of financial data for over 16,900 insurers worldwide: approximately 5,320 in Europe, 7,400 in North America, 1,800 in the Asia-Pacific region, 430 in the Middle East and North Africa and 1,980 in Latin America, the Caribbean and beyond. For information about region-focused products, view the links below.
Perform cross-border and comparative analysis and view information in the currency of your choice.
Search for data with the query builder, then generate custom reports including your own data and ratios.
Aggregate selected companies to create a single group company, country total or benchmark record and evaluate mergers.
Identify insurers and analyse groups with immediate and ultimate parent data, based on A.M. Best's analysis of corporate structures and ownership.
Download extended company rating histories of up to 25 years.
Research and analyse companies, competitors, peers and markets in extensive detail with the latest ratings, credit reports and financial data online through BestLink
Pull the latest rating and financial data into your spreadsheets with BestLink for Excel.
Your purchase includes:
Up to 11 years of financial data on insurers and reinsurers
PDFs of Annual and Interim Reports and Accounts
Best's Financial Strength Ratings
Detailed consolidated and unconsolidated balance sheet, technical accounts and non-technical accounts
Global and Country Market Filters that make the task of creating rankings and analysis faster and easier:

The Global Market Filter helps you analyse markets based on consolidated worldwide groups and independent (non-affiliated) single companies.
The Country Market Filter lets you analyse markets based on the individual insurers writing business in each country, excluding where possible cross-border international business.

Data and analysis templates, for easy cross-border analysis
A database of national "as-filed" data and country-specific templates
A flexible interface that lets you view data in your preferred layout and create your own anaylsis templates
Currency conversion feature
Customisable report generator that lets you generate your own data items and ratios
Rating histories and a corporate structure reference
Best's Corporate Changes and Retirements, an online database that lets you find changes impacting existing companies, locate surviving insurers for companies that have gone out of business and more
Mergers & acquisitions database
Current and archived AMB Credit Reports
Best's Executive Summary Reports, for five years of financial and rating data for individual insurers
A U.S. insurer Peer Selection tool
A U.S. insurer Company Ranking tool to create reports showing the top insurers based on key financial fields
Best's Review - Digital, one subscription per user
Best's Insurance News & Analysis, A.M. Best's complete news and research service, one subscription per order
BestAlert Service company tracking and notification system
Important Links
Phone orders: In the U.S., Bermuda and the Caribbean, call (908) 439-2200, ext. 5311. In Europe, Canada, Africa, Asia and Australia, call +44 20 7397 0290.
Multi-user enquiries, including organisation-wide access: (908) 439-2200 ext. 5311.
<!###CONTENT:END###>