<!###CONTENT:BEGIN###>
Best's Schedule P
(Loss Reserves) - Property/Casualty, United States
To order by phone:
(908) 439-2200, ext. 5311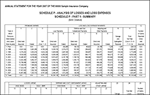 View underlying statement pages.
Inadequate loss reserves are the leading cause of insurer insolvency. Best's Schedule P delivers the insight you need to plan for the future, providing powerful tools for uncovering property/casualty industry norms and trends in this vital area.
Use this product to:
Study loss and expense reserves, Incurred but Not Reported (IBNR) reserves and loss payments by line of business.
Determine the appropriate level of loss reserves for a company.
Perform claims and loss analysis.
Compare your company's results to those of other companies or the industry.
Observe reserving trends over a 10- or 20-year period in the major casualty lines.
Assess the impact of a company's reserving practices on its financial strength.
Open online statement pages in Excel

Access the latest financial data, ratings,and news online with BestLink, and view our extensive company overviews for general data, graphs and analysis
Integrate the latest data into your spreadsheets with BestLink for Excel.
Your purchase includes:
Data for up to 20 accident years for 22 lines of business on a net and gross basis for approximately 3,200 property/casualty companies and groups, from Schedule P, Parts 1 through 7, of the NAIC annual statement
A.M. Best-calculated ratios, such as Paid Loss and Allocated Loss Expense; and A.M. Best-calculated percentages, such as Percent Paid to Incurred
Accumulated prior-year totals and totals for all years
Standard reports, including Claims Development, PALS (Schedule P Assets Liabilities Surplus) Summary and more
Comprehensive 20-year analytical reports
NEW: "As-Was" data, as it was originally filed by insurance companies
Company Profile Page and Loss Reserves Wizard that take you step-by-step through the process of creating reports
Access to Insureware's ELRF™ (Extended Link Ratio Family) software preloaded with Best's Schedule P data. The combination of A.M. Best's data with Insureware's specialized software:

Provides statistical tools for performing loss reserve analysis at various levels of segmentation
Pre-computes a number of triangles and risk metrics such as reserves held, and survival and loss ratios
To learn more about how you can benefit from using the product, visit

the Insureware website

.

Companies' corporate structure
Historical Best's Financial Strength Ratings and Best's Issuer Credit Ratings
Best's Corporate Changes & Retirements, going back to 1819
BestAlert Service company tracking and notification system
Best's Review magazine
Important Links
Phone orders: U.S.: (908) 439-2200, ext. 5311
<!###CONTENT:END###>