<!###CONTENT:BEGIN###>
Insurance Industry Resources
The following links provide access to a variety of useful insurance related information and resources. If you can not find what you're looking for, send us an e-mail and we'll try to provide that information on this site going forward.
2015 Professional Designations Listing - Best's Review's annual listing of certification programs from recognized organizations
Glossary of Insurance Terms - a list of terms and their definitions to better help you navigate the world of insurance.
Directory of Meetings & Conventions - search our extensive directory by association, meeting name, category, date, country or state/province.
Insurance Associations - browse through our list of insurance associations.
Insurance Buying Guide - a list of resources to help you prepare for buying insurance.
Insurance Information Centers - focuses on insurance by region or industry, including the most recent Best's Ratings, excerpts of Best's Review articles, BestWeek Special Reports, Statistical Studies, news and more.
Other Insurance-Related Companies and Resources - links to other insurance-related sites to get the information you need.
State Insurance Regulators - find information regarding any of the of the states' insurance regulators by going directly to their sites.
---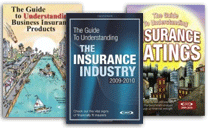 Insurance Bookstore
A.M. Best's series of informative guides to understanding various aspects of the insurance industry are available on

<!###CONTENT:END###>